This free gift tag and easy, quick student gift for back-to-school or Meet the Teacher Night will be greatly appreciated by your students. You'll love how fast and easy it is. Parents will love that it's not candy and almost a "good for you" snack. 😉
These cheery Goldfish Cracker bags with cute tags are not only great welcome-back student gifts to have on students' desks as they enter the room. They will also show your students immediately that you are ready and excited to have each of them in your class as they o'FISHally start a new year! The free download at the end of this post includes tags for student gifts for kindergarten through 5th grade.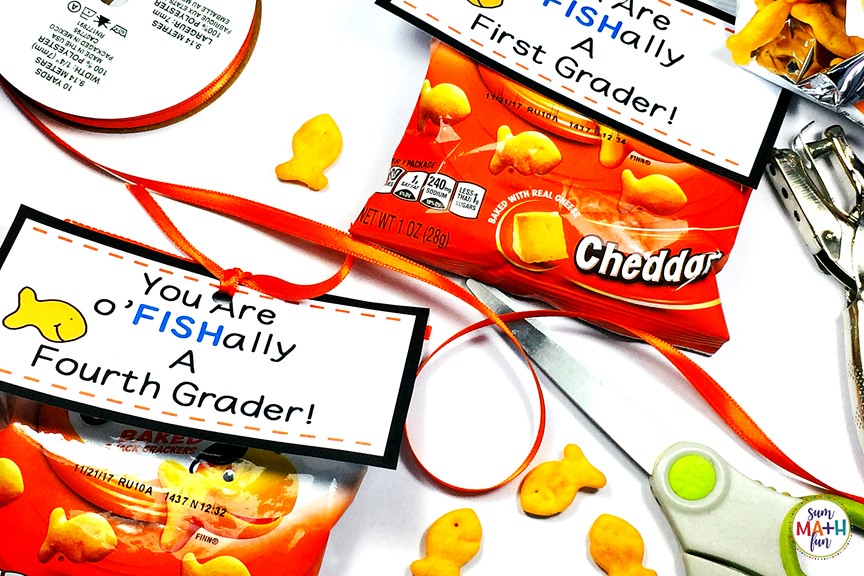 Here's what you'll need for your back-to-school student gifts:
Enough bags of Goldfish Crackers for each of your students *

Extra Goldfish Crackers for snacking while you work!

Ribbon, twine, or other material for tying the tags to the bags*

Scissors

Hole punch
Here's how I put them together:
First I hole-punched each bag and each of the tags I had printed and cut out for the student gifts.

Then I cut my ribbon into five-inch strips.

Next, I ran the ribbon strips through the bag and the tag.

Last, I tied them very simply in a "one crossover" as I wasn't worried about them coming undone since I'm placing them on students' desks right away. The handling will be limited.
DONE! Your Student Gift is complete!
And they are super cute! I can't wait for the kids to see their student gifts as they find their desks and begin their math packet. They'll be munching as they help relieve their first-day jitters.
Here's the link to the Gift Tags in my FREE Resource Library. Inside the resource, there is one page of gift tags for each grade – Kindergarten through Fifth.

*I already had the orange ribbon on hand.
I purchased two of the 12 Pack Goldfish Lunch Box boxes for $6.68 each at Walmart. During this crazy, chaotic time, if you don't want to enter the doors at Walmart, they will ship to you. They were delivered to me in two days. Since I live an hour away from the closest Walmart, I just had them shipped – free. – Additionally, wonderful!
Click this link to grab these FREE Student Gift Tags from our
And as always,