Do you dread having early finishers in your 3rd, 4th, or 5th grade classroom? Every classroom has them. Keeping early finishers engaged and challenged can be difficult for new, as well as experienced, teachers. They can bring mayhem into your classroom if they don't have targeted extensions. Read on to find out how to "tame the speedsters" (a.k.a. early finishers) in your classroom and also control the math extension beast.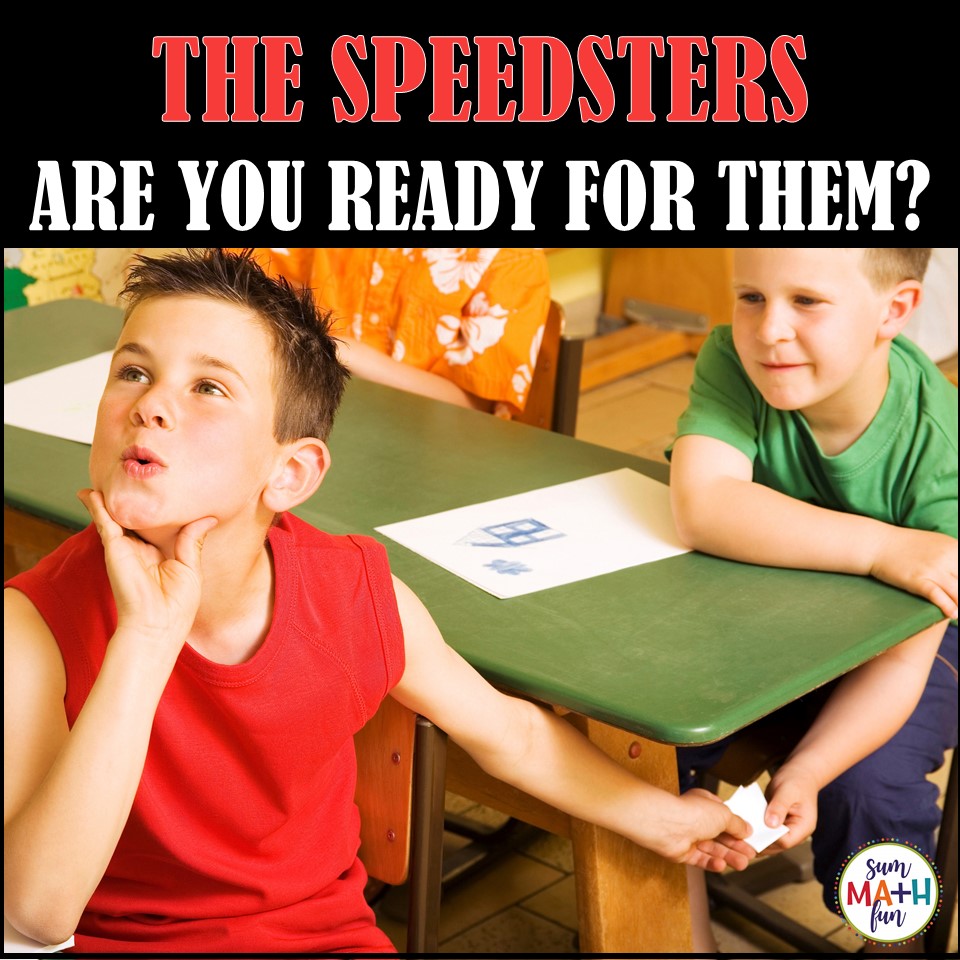 I thoroughly planned my math lesson. It was hands-on with a terrific recording sheet and reflection page. I even thought of a "bonus question" for my early finishers.
So, I was ready for them this time.
I explained and modeled the assignment. Then, I pulled my first small group while one group was doing the independent assignment I had so thoughtfully planned and as my third group was working at stations.
I monitored frequently to make sure all students were on task and working. Five minutes. Eight minutes. Ten minutes. And then…"I'm Done!" Ugh!
Early finishers – Again!
Does this sound all too familiar? I needed more. More tasks that would keep my early finishers engaged and challenged. I needed an early finisher "stash" in addition to daily assignments.
After learning the hard way that you just must have an early finisher "stash", I began creating challenges that my teammates and I could use to keep those eager minds learning. I created challenges that were targeted to problem-solving and not just fluff. Challenges that required using mental math. And, challenges that were engaging enough to prevent off-task behaviors.
As a result, the early finisher tasks were so successful in our classrooms, that I want to share them with you, too.
These tasks will raise the rigor and give you the completed models you need for having your students create your "stash" of challenges. We usually print them out and laminate them so students can write directly on them. However, if we want a record of their thinking, students work in their math notebook. But, we keep it simple and easy to manage.
This first activity focuses on number sense and the guess and check strategy. It helps students make connections to prior learning and lets them know that they will continue using what they've learned.
Our students love the guess and check strategy because it helps them see that a wrong answer is not a bad thing! A wrong answer is something to learn from and find a better answer. And, it helps them feel safe to try new ideas and solutions.
A wrong answer can be powerful when used to enrich thinking.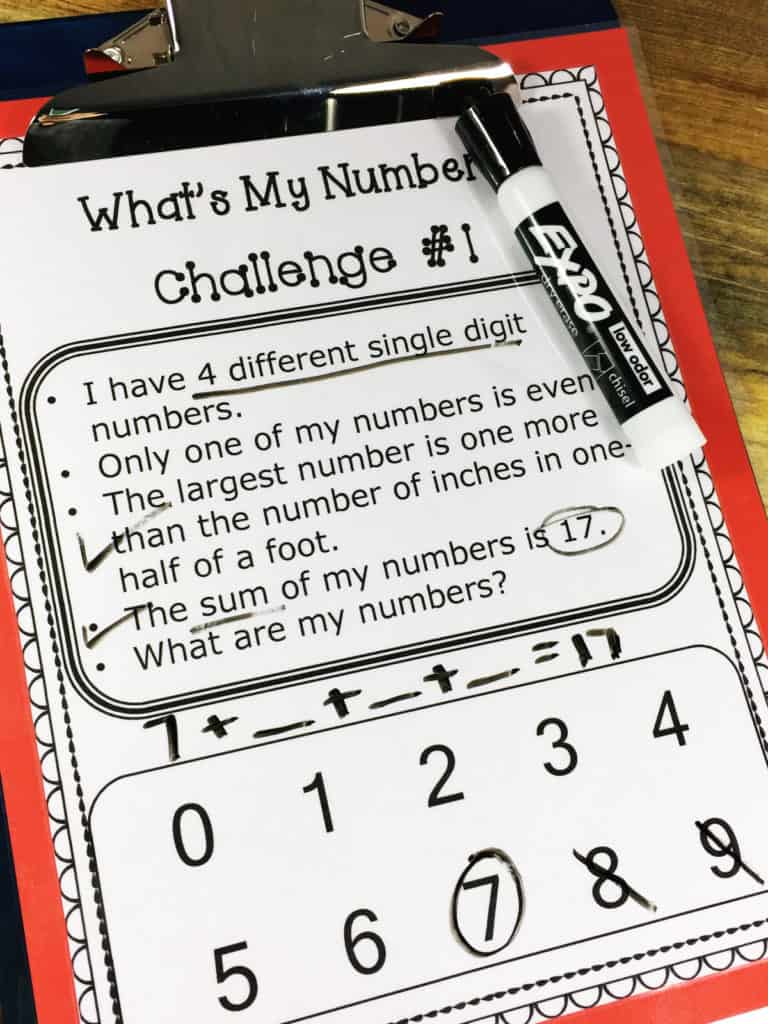 When our GT and fast finishers complete their math daily assignments, they know they are not "Done!". After they are finished with their assignments, they go to the workstation area and take the folder/basket that is labeled "Early Finishers". Then from the basket they choose a challenge that is new to them. Therefore, it is important to have a variety of challenges to keep them engaged and thinking.

Our kids L-O-V-E these "algebra" activities included in the resources below. They have to

apply what they know about facts,

and then,

guess and check

to find the exact numbers that will work for each letter. There is so much great

mathematical thinking

in these as well as great

fun

.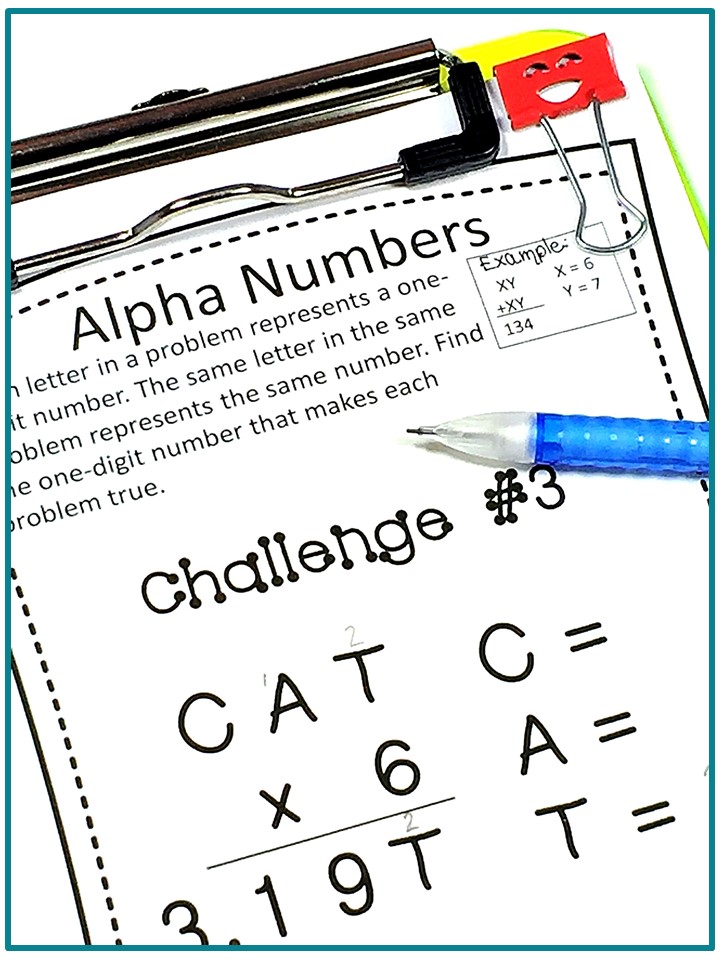 When students complete a challenge, it makes them feel math smart. They just know that they "can do it". And that's wonderful because it helps to build their math confidence which helps to build perseverance in solving problems. And that helps with mathematical attitudes. It's an all-around win!
Grab More FREE Challenges below!
Click on the FREE Early Finishers photo below. Then print out the three tasks and you'll have the challenges at your fingertips ready to go.
If you want even more with absolutely no prep for you, the early finishers bundle has over 130 challenges that you can just print to have a ready-to-go stash.
Click the link below for a

video

of the whole bundle of over 130 challenges!

When you hear, "I'm done!!",

you'll be ready to turn waiting time into learning time.

And as always, have fun mathing!

GRAB MORE FREEBIES!
Join the Sum Math Friends teaching community to receive access to over 70 FREE resources in our growing resource library filled with printables and activities for your kindergarten, first, second, third, fourth and fifth graders. Just click the picture below to sign up and have great FREE resources at your fingertips and ready-to-go!