Can you actually teach before Christmas break? There is so much excitement that just keeping control can be a teacher challenge. How do you keep students truly engaged and challenged when they are so excited?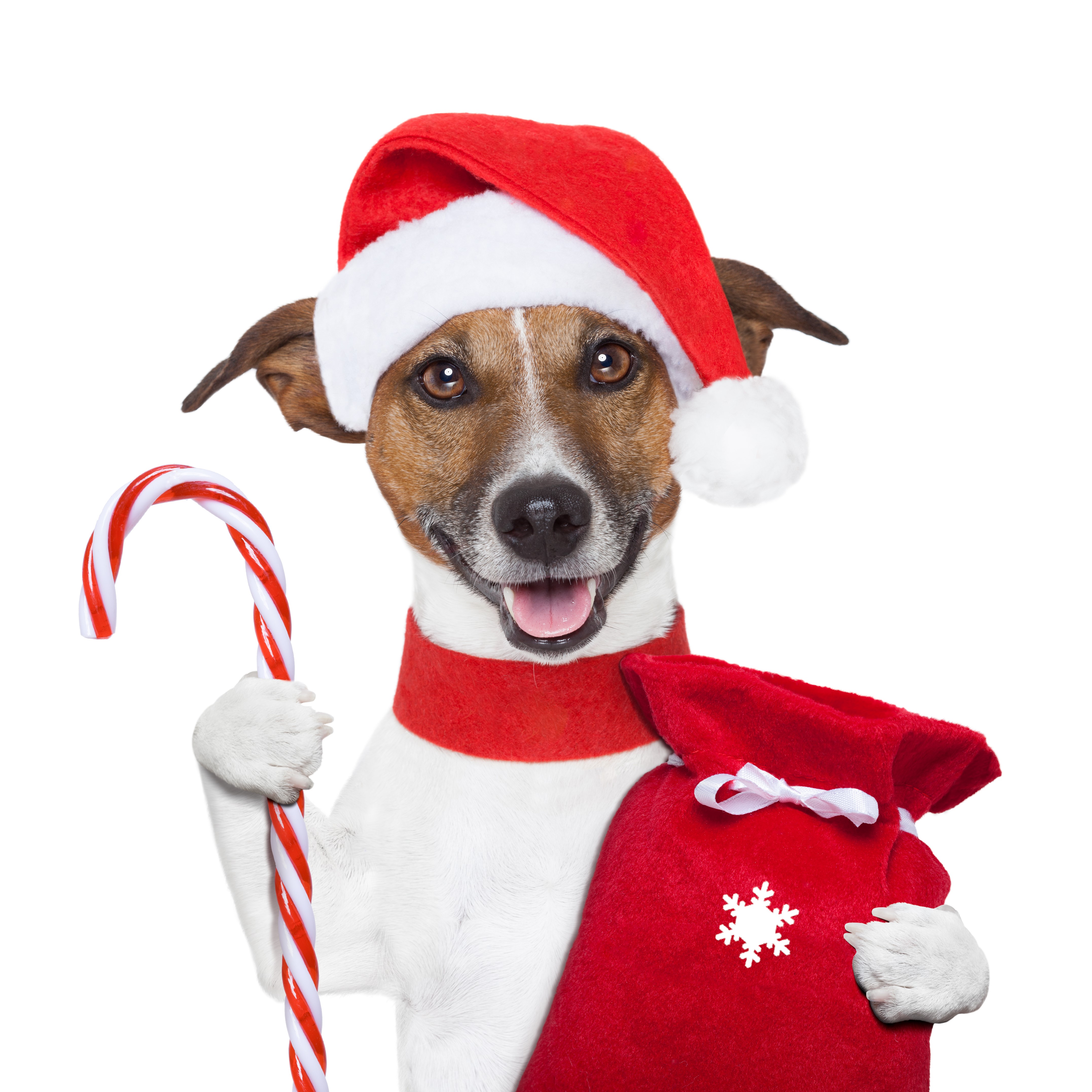 Well…use their excitement. Really!
► Make everything a challenge.
► Keep on giving them new learning.
► Make it FUN.
► Keep lessons centered around snow (even if you don't have any). Frosty, the Whos, Rudolf, and other fun Christmas characters will help hold the attention of all those bundles of energy.
You will actually build on their Christmas excitement for total teaching success!

Using these teaching strategies, I created these no prep Christmas word problems for third grade. There are also sets for fourth and second grades in my store. Links are at the end of this post. If you have early finishers or gifted students who need more extensions, check out this post for tips and ideas!
They are rigorous.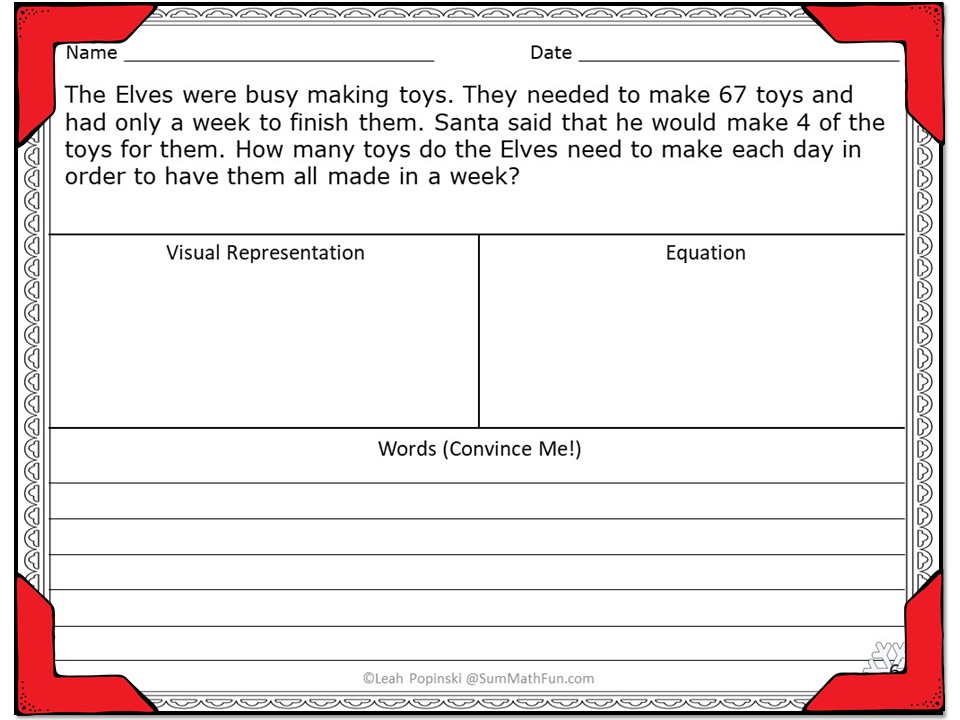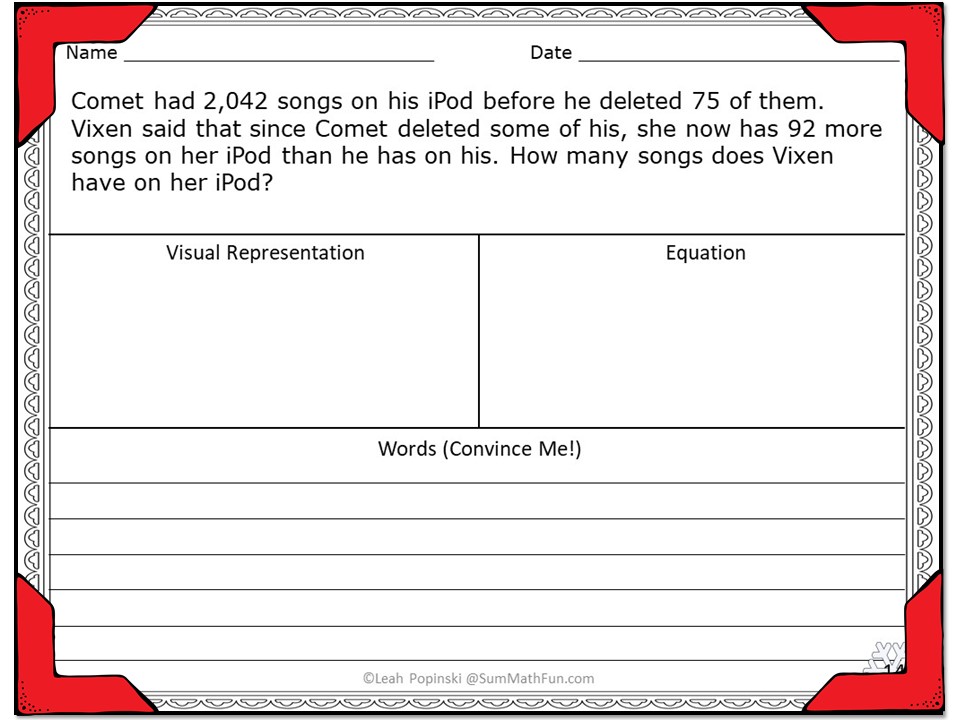 They are fun.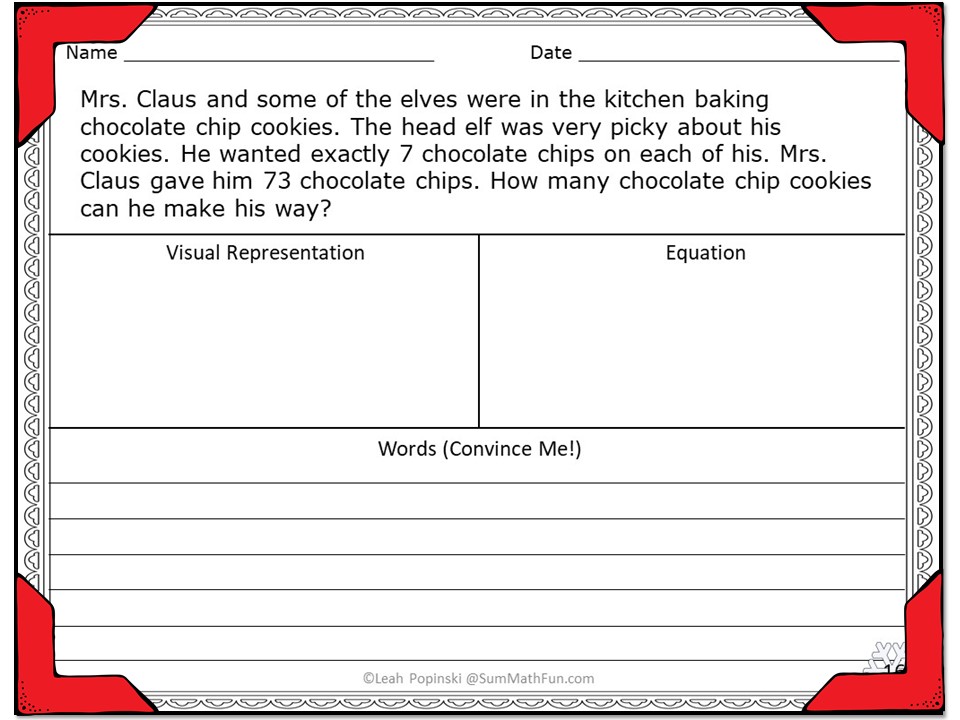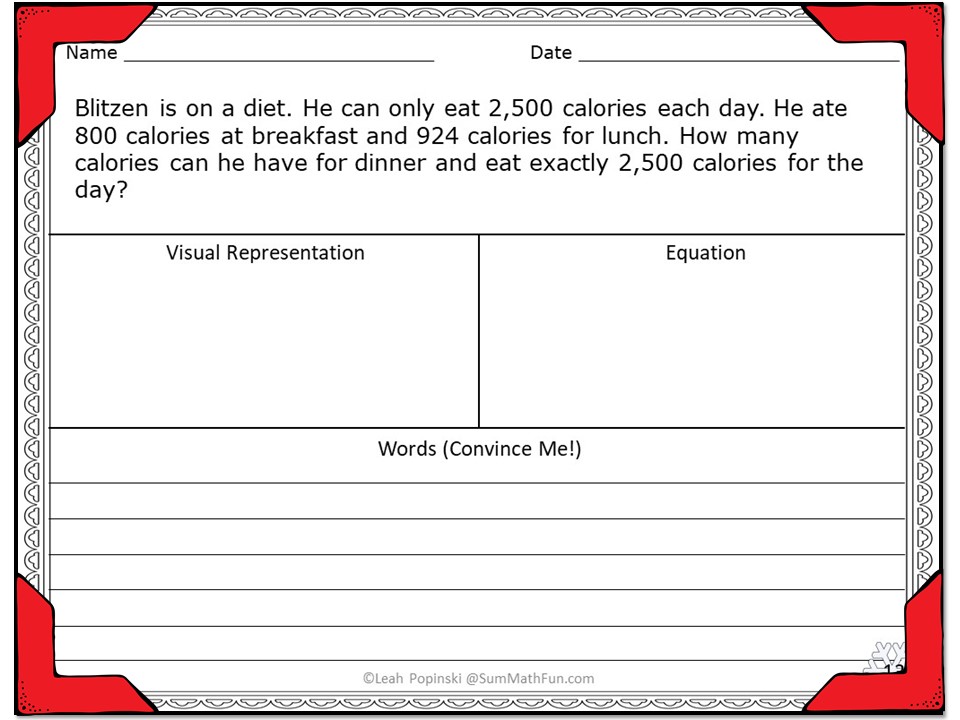 They are differentiated.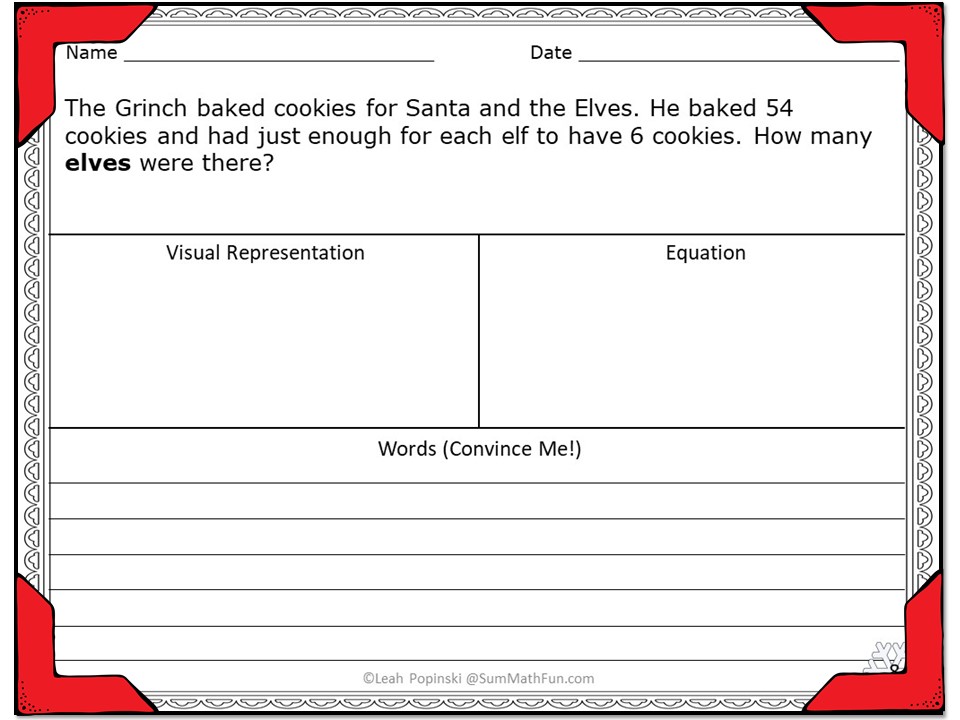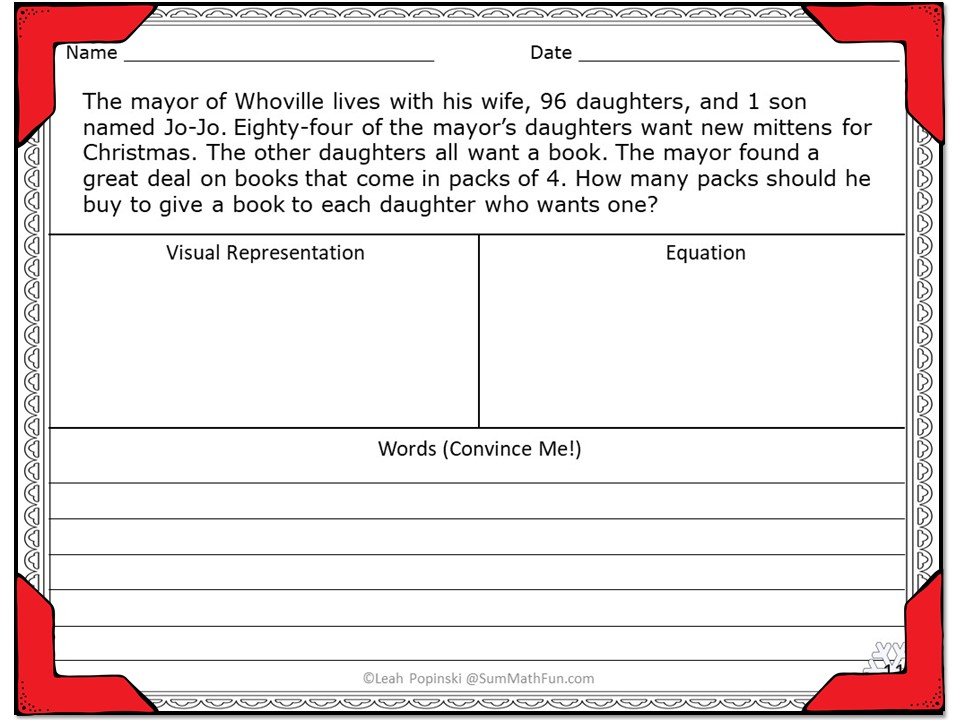 They review previously taught skills.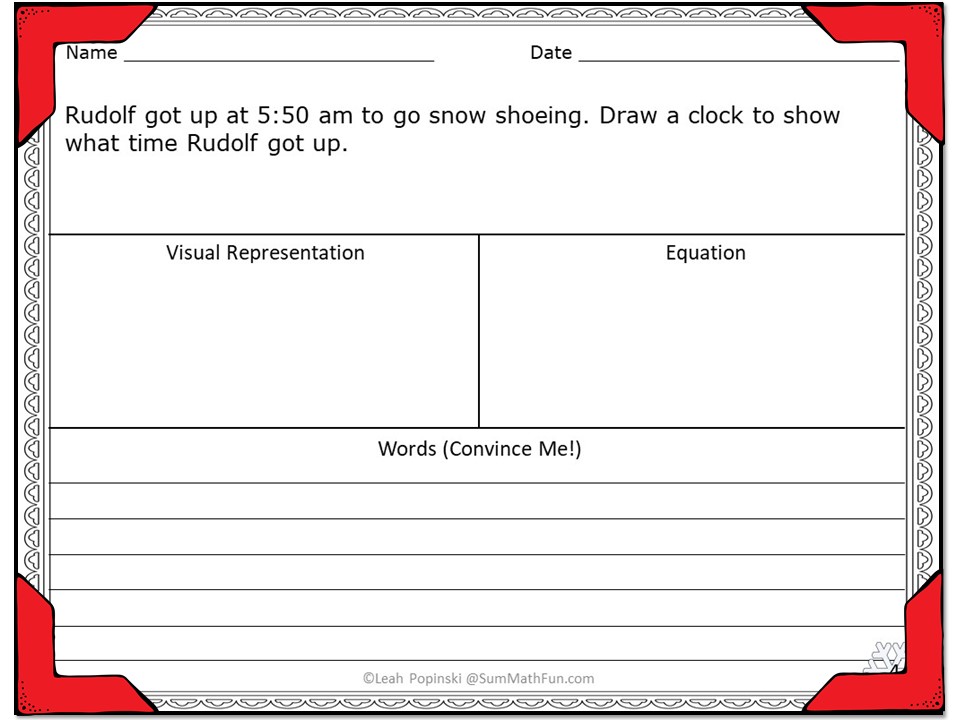 And… we love them!
Each Christmas word problem has the format for a Visual Representation, Equation, and Words. These steps were created for the purpose of making sense of a word problem instead of using tricks and keywords. Students must understand what the word problem is asking by completing the graphic organizer. Taking time to think and write about their solution helps them be successful.
The "Convince Me" section is a great Math Talk starter and encourages students to use math vocabulary and proofs.
Our kids loooved solving the Christmas word problems in pairs. Giving them a candy cane also helped!
To make things easier for you, there are posters of Essential Questions and a poster that lists some of the Common Core skills that students will be using to solve each Christmas word problem.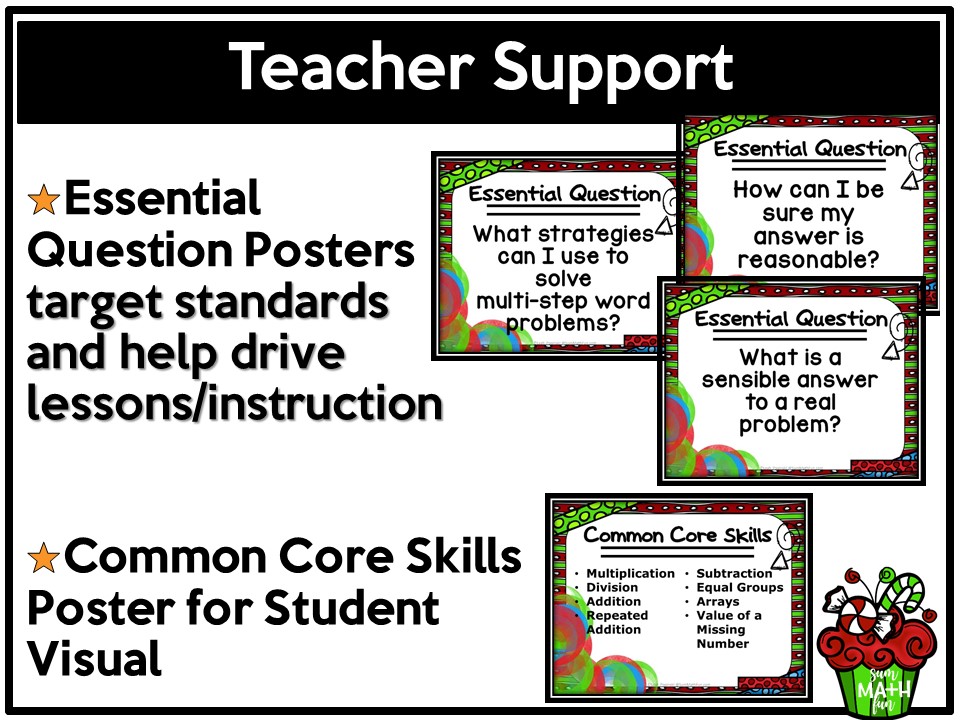 An answer key is also included to help keep your time free during these extra-busy hectic days!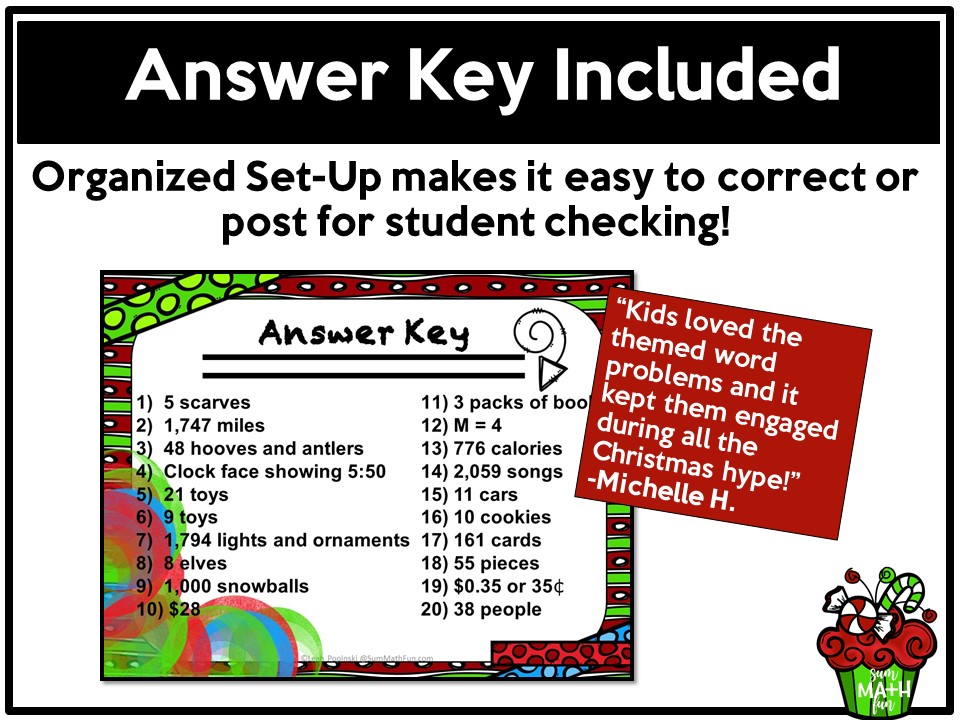 Having this print and go Christmas word problem packet on-hand and ready-to-go will ease the stress of this busy time of year! It is a super resource for fun, yet meaningful Christmas themed math word problems that will use your students' excitement in a positive way.
It will keep them engaged.
It will keep them challenged.
It will keep them learning right up until that last day before Christmas break.
There is always so much math to learn, that taking a "time-out" is just not possible. Use their excitement by giving them challenges that will be fun and keep them engaged and learning. You CAN actually teach before Christmas Break.
Click here to find out more about this third grade Christmas word problem packet.
Click here to find out about the fourth grade Christmas word problem packet.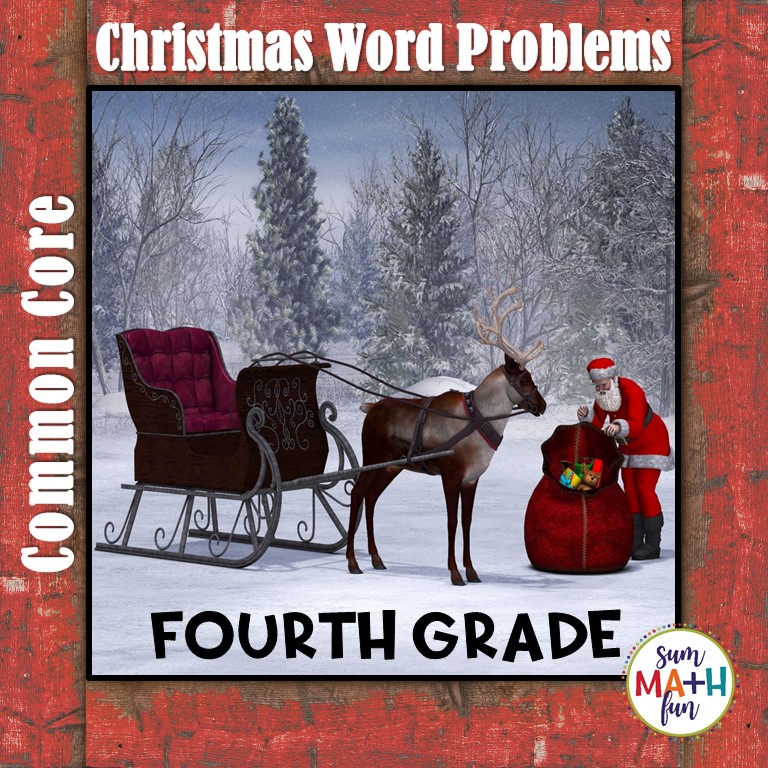 Click here to find out about the second grade Winter word problem packet.
And as always . . .

GRAB A FREEBIE!
For a FREE sample of Winter Word Problems for 2nd, 3rd, and 4th grades, plus over 70 FREE resources, visit the Sum Math Fun Resource Library!
And as always, have fun mathing!

GRAB MORE FREEBIES!
Join the Sum Math Friends teaching community to receive access to over 70 FREE resources in our growing resource library filled with printables and activities for your kindergarten, first, second, third, fourth and fifth graders. Just click the picture below to sign up and have great FREE resources at your fingertips and ready-to-go!