Have you noticed, complained, lost sleep, and cried over the fact that teaching money to our young students seems to be left out of the Common Core Standards?! 😭
Teaching students to recognize and count money is just not there. Whoa! Big gap!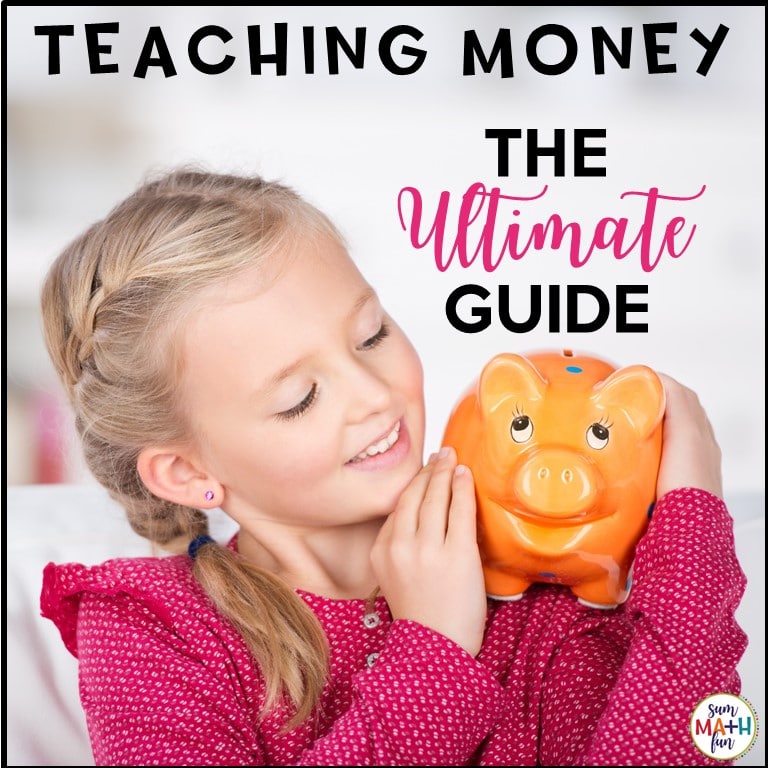 A measurement standard for money first appears in second grade with standard 2.MD.C.8:
"Solve word problems involving dollar bills, quarters, dimes, nickels, and pennies, using $ and ¢ symbols appropriately."
Wait! What? Word problems? As the beginning?? 😲😵
🧐 Hmmm…there seem to be a few money concepts missing. In addition to that, shouldn't my kids be able to:
Recognize coins?

Know the value of coins?

Fluently skip count?

Change skip counting from 5s to 10s to 1s?

Count sets of coins and recognize equivalent collections?

Select coins for a given amount?

Make the connection between our place value system and counting dimes and pennies?
ALL BEFORE they have to solve word problems involving money?! 🤔
Using money needs to be taught in baby steps and thoughtfully sequenced. If you're an experienced teacher, you know that starting your money unit with word problems will be a disaster. Furthermore, even if you're a third or fourth grade teacher, don't assume that your students know how to count money or in addition, make change. These are complex skills and therefore, are quite confusing for many students.
BUILD THE MONEY CONCEPT
In order to build the concept of money, make it fun and meaningful. Additionally, encourage understanding so that when you introduce money in word problems your students will have fun and be successful!
Give them support with:
POEMS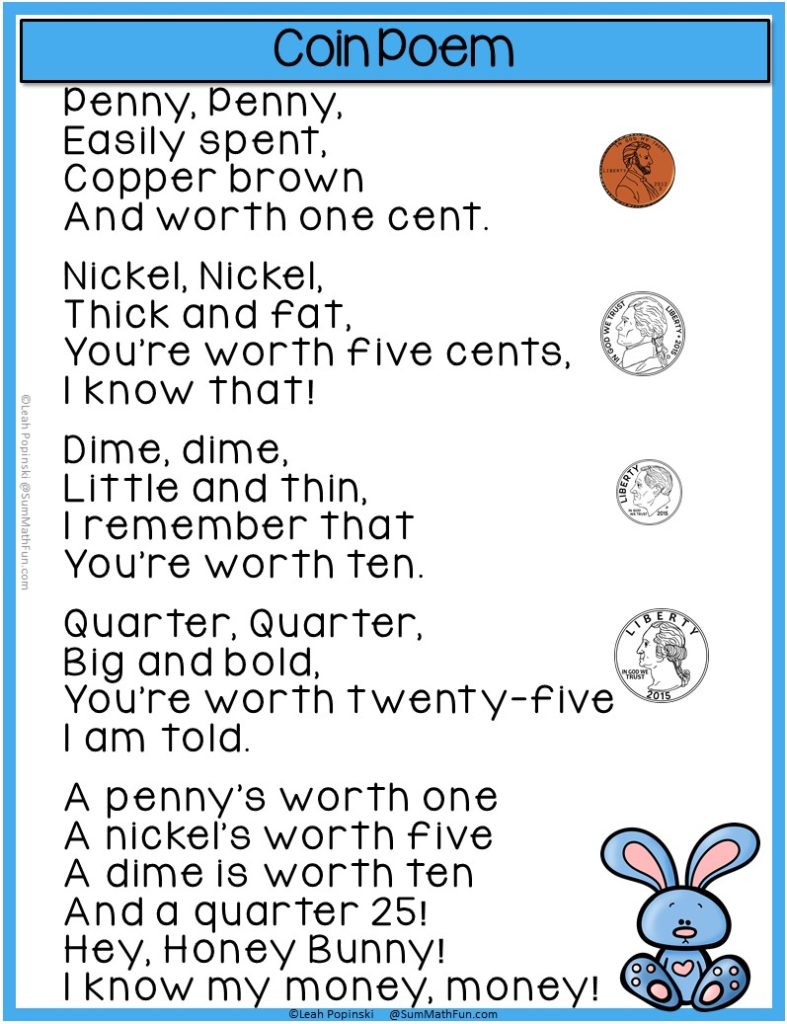 POSTERS

and INDIVIDUAL REFERENCES such as this half-page chart.
Also if possible, use real coins. Plastic coins do not feel, smell, or sometimes even look like the real thing. It can also be difficult, especially for special needs students, to generalize plastic coins to real-world coins.
And, by the way, watch out for the price! One year, I bought a bag of 100 pennies and paid $1.27 for it! I didn't think about the price compared to what was in the bag!! 🤦🏻‍♀️🤦🏼‍♀️🤦🏽‍♀️🤦🏾‍♀️🤦‍♀️
⭐This is a step-by-step ultimate guide for teaching money from the recognition of coins to the abstract level of counting coins.
1. TEACHING MONEY – COIN RECOGNITION:
I like to start by presenting only two coins at a time, the penny and the dime. (As a side note, you can also use the penny and dime when working on place value.)
First, I introduce the penny and its attributes. Most children will recognize the penny because it is a different color and in addition, if they have a piggy bank it usually has pennies in it.
To begin, we give pairs of students a real penny to "investigate". Then, we talk about the back and front, the date, and other attributes that they notice. Equally important, we have them feel the weight of the coin and also notice its size if they don't mention that. As we investigate, we make a list on an anchor chart so that students always have a visual in the classroom.
Next, we use magnifying glasses from our science materials and take a really close look. I love this and so do they. If we have a little extra time, we tell them about "heads" and "tails" and show them how to flip a penny. I know. This can get out of hand if not controlled. But, every year there are students who have heard of flipping coins but have never seen anyone do it up close. Consequently, they don't really know what it means to flip a coin.
As a matter of fact, flipping a coin is a great way for students to determine who goes first when playing games. Just keep a few pennies in a separate container in your math manipulative area with your games.
An interesting fact for you

. . . Did you know that pennies usually land tails up? If you toss a penny 10,000 times, it will not be heads 5000 times, but more like 4950. The heads picture weighs more, so it ends up on the bottom. However, the U.S. mint disputes this "error".
Secondly, we introduce the dime. We use the same routine to introduce it. Its special characteristic is its small size.
An interesting fact for you
. . . The dime and the quarter have grooves around the outside. The dime has 118 to be exact. This has been verified by one of my students who was fascinated by coins, a real junior coin collector! He taught us many interesting facts and easily led our coin conversations.
After introducing the penny and the dime, we also make coin rubbings of each.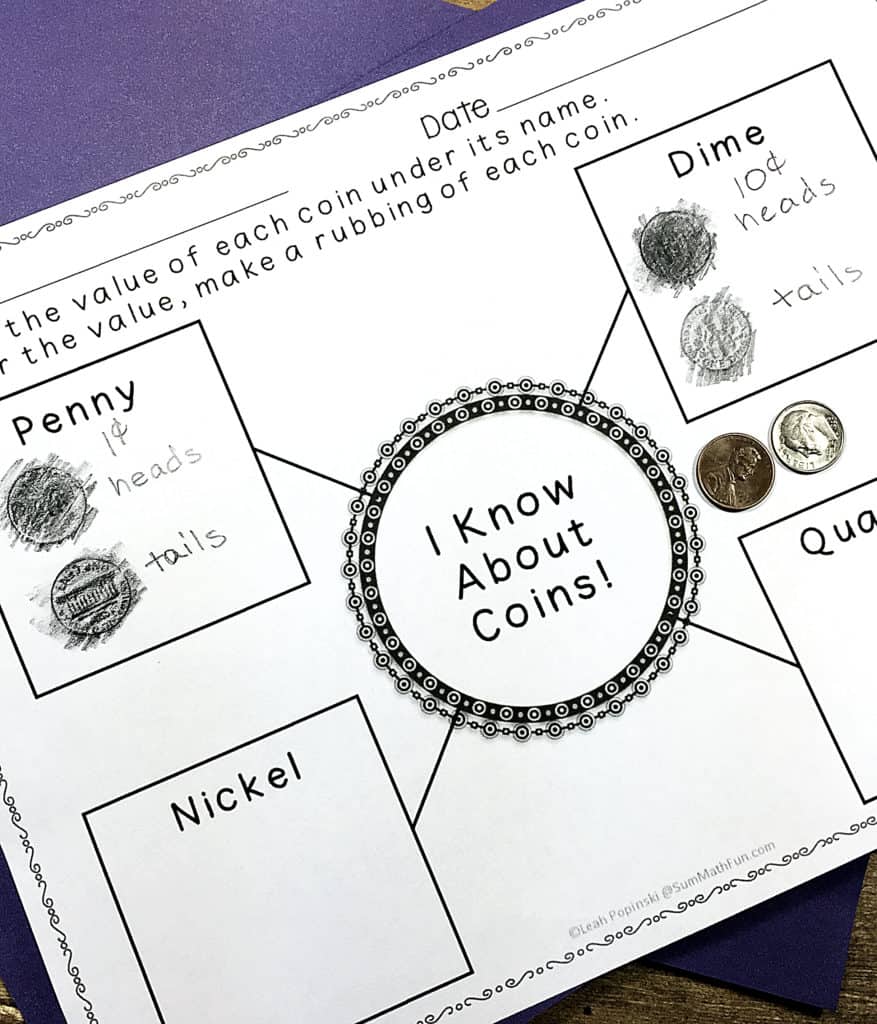 To make a coin rubbing, place the coin under your paper. Then, using the side of your pencil or crayon, rub the paper over the coin until the features are visible.
Thirdly, we introduce the nickel and then the quarter in this same way taking time to have students distinguish the individual coins and sort them many times. In addition, having a sorting mat or containers for each coin at a center works well. I also like to include the coin values on the containers as one more visual reminder.
After we've introduced each coin (except the half-dollar), we make our coin flip-book.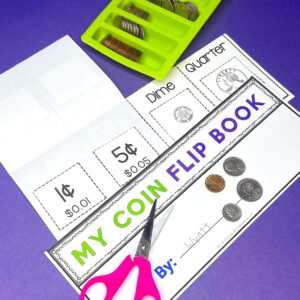 2. TEACHING MONEY – COUNTING COINS:
What a confusing concept! As John Van de Walle points out in his book Teaching Student-Centered Mathematics, this is the only place that we point to a single object and say, "this is five," or "this is ten". Think how confusing this must be for our early learners whose understanding of number concepts is still at counting each object one by one!
Consequently, at this point, you will have learners at many different levels and will need to go slowly and meet individual needs in small groups.
We count just pennies and dimes for about a week using place value and skip counting. Then we introduce the nickel and changing our skip counting from tens to fives to ones.
Adding in the counting of quarters is around November for our second graders. By then, the large majority of our students have a solid knowledge of counting pennies, nickels, and dimes and are ready for counting by 25s. Students must have strong skip counting skills. These counting skills will also help your students with mental math skills!
THE ESSENTIAL FOR TEACHING MONEY
Importantly, counting coins requires repetition. Repetition. Repetition. Using these Coin Exchange Mats has been a life-saver! Our kids LOVE them and beg to count coins. Crazy! Right? I'm pretty sure they've seen my eyelids sliding shut a few times after the fifth, sixth, seventh time of reaching a dollar with the same group! 🤓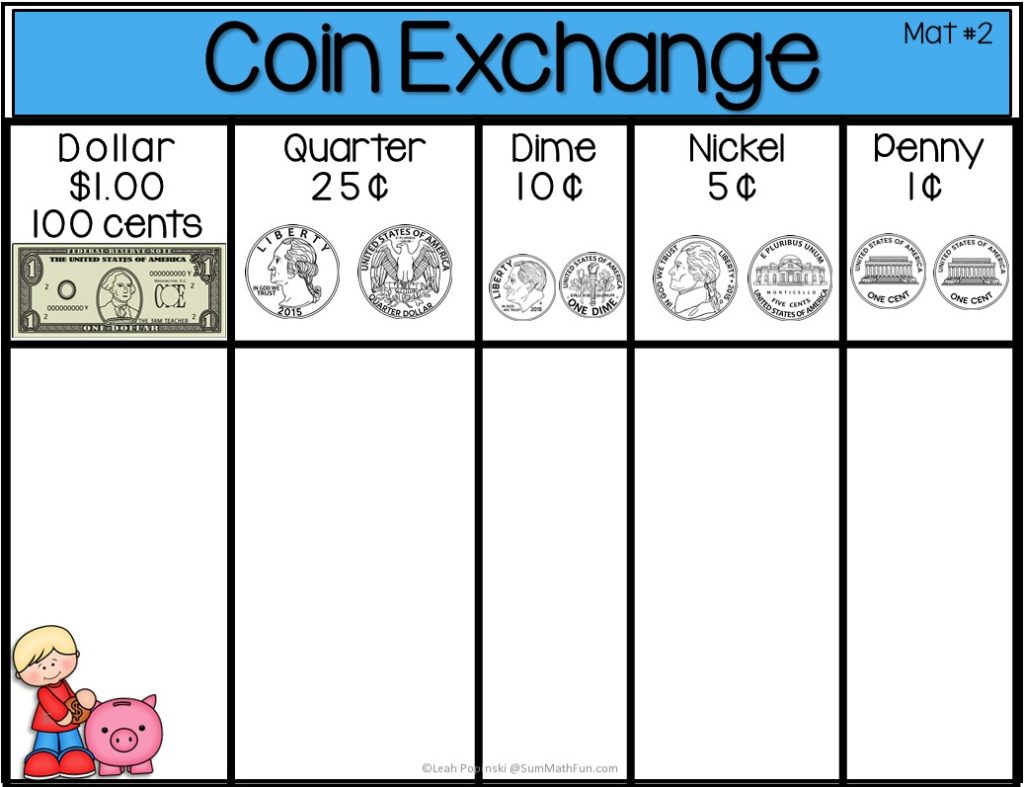 We have made mats like these out of construction paper by drawing the lines and taping real money to the top under each coin name. We use the Coin Exchange Mats in small groups. Each student has a mat and a pile of coins in front of them. Along with the mats, we have a "group bank of coins" in case someone runs out.
It goes like this:
Me: "Add one". As I say this each time, I model for the students what they should be doing as they do it with me.
Students:
Take a penny and place it in the penny column.

Touch the penny and count, "one" with me.
Me: "Add one"
Students:
Take a penny and add it in the penny column

Touch each penny as they count with me, "one, two".
We repeat this until we have 5 pennies in the penny column. Observe carefully to make sure all students are touching each coin as they count with you. This is an important step.
Then . . .
Me: "Exchange!"
Students:
Place the five pennies back into their pile of coins.

Place a nickel in the nickel column.

Touch the nickel and say, "five" with me.
Me: "Add one"
Students:
Take a penny and place it in the penny column.

Touch the nickel and say, "five" with me.

Touch the penny and say, "six" with me.
Me: "Add one"
Students:
Take a penny and place it in the penny column.

Touch each coin as they say, "five, six, seven"
Continue this procedure until you reach $1 or modify as needed by only counting to a quarter.
For those students who need a more scaffolded approach, begin with a mat that has the correct number of coins needed for an exchange drawn in on the mat. See below.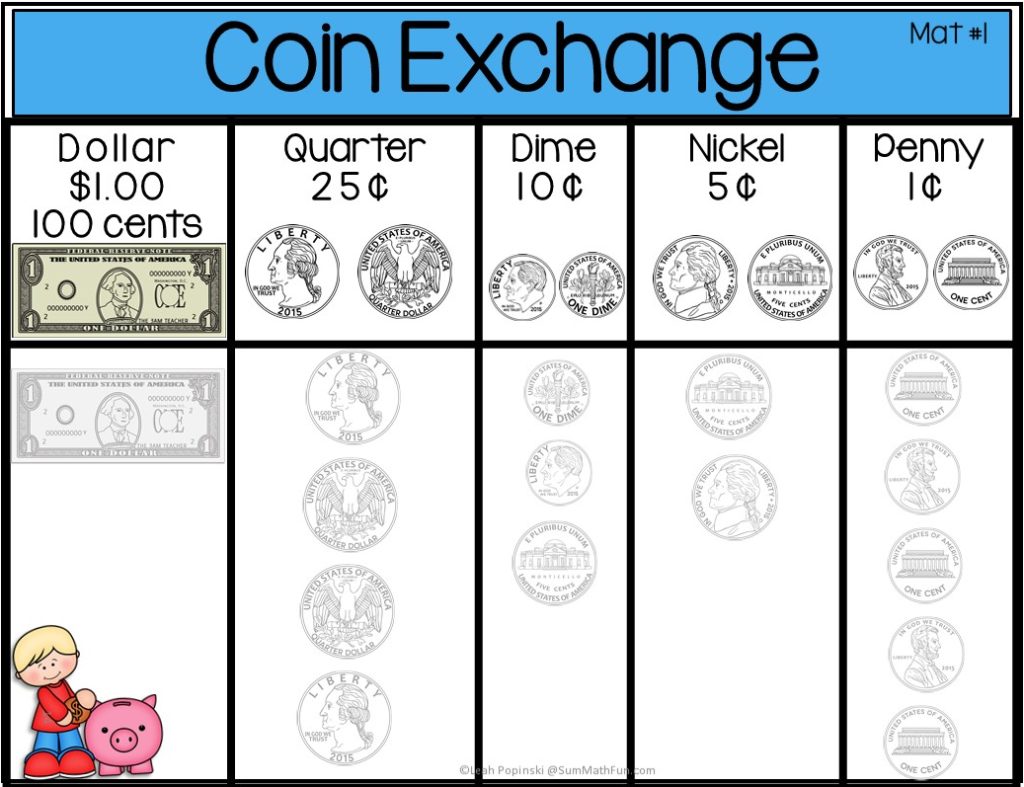 When most students are easily able to count through dimes, nickels, and pennies, stop counting and let them count by themselves. When most are confident, have individual students count aloud as the others count to themselves as they touch each coin.
In fact, soon, students will anticipate the exchange and say if before you get a chance. Did I tell you that they LOVE this??
The repetition of counting each coin and adding to its value each time that a penny is added, making exchanges, and touching the coins as they count WORKS!
Definitely, you will want to do this activity! 👍👍🏻👍🏼👍🏽👍🏾
It will take more repetitions for some than others. Because they love doing this and beg to "do it again", if you find your eyelids sliding shut, assign a responsible student who has counting coins mastered to be the "guide" for a group that needs more.
Finally, it's time to have students practice at centers. Add some cute, fun games and activities like the ones below into your guided math groups and keep the fun and learning going!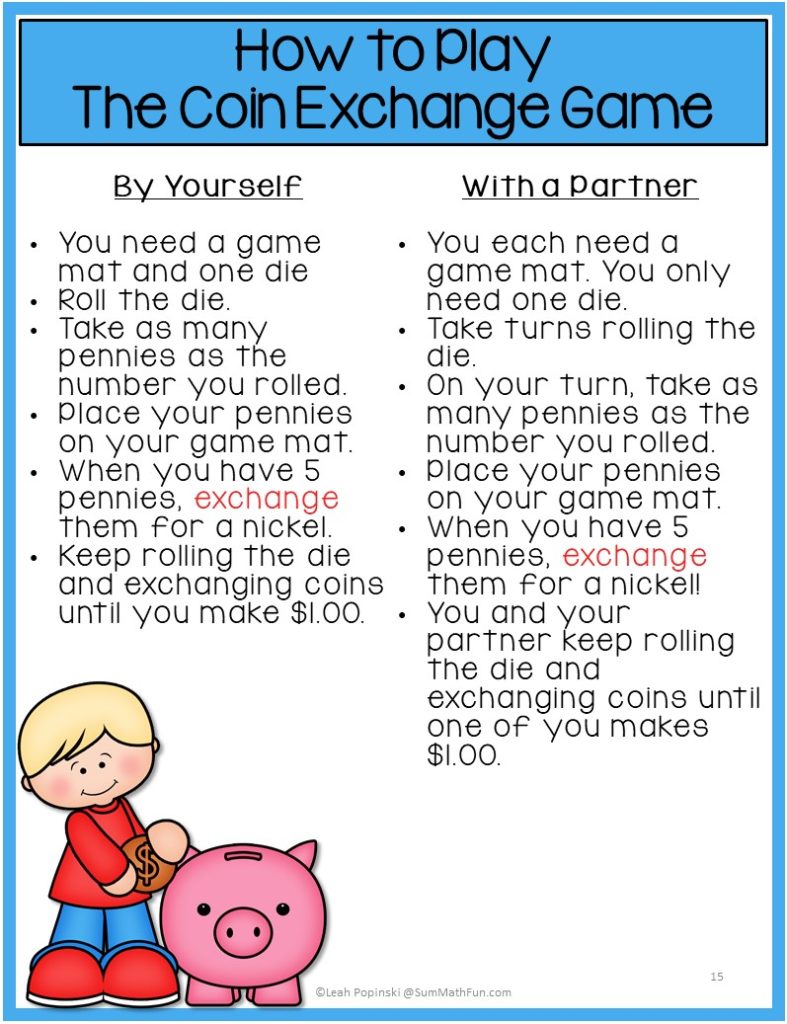 Focus skill:

Counting coins
By using the rules in the photo above, you can turn the Coin Exchange Mat into a game that students can play by themselves or with a partner.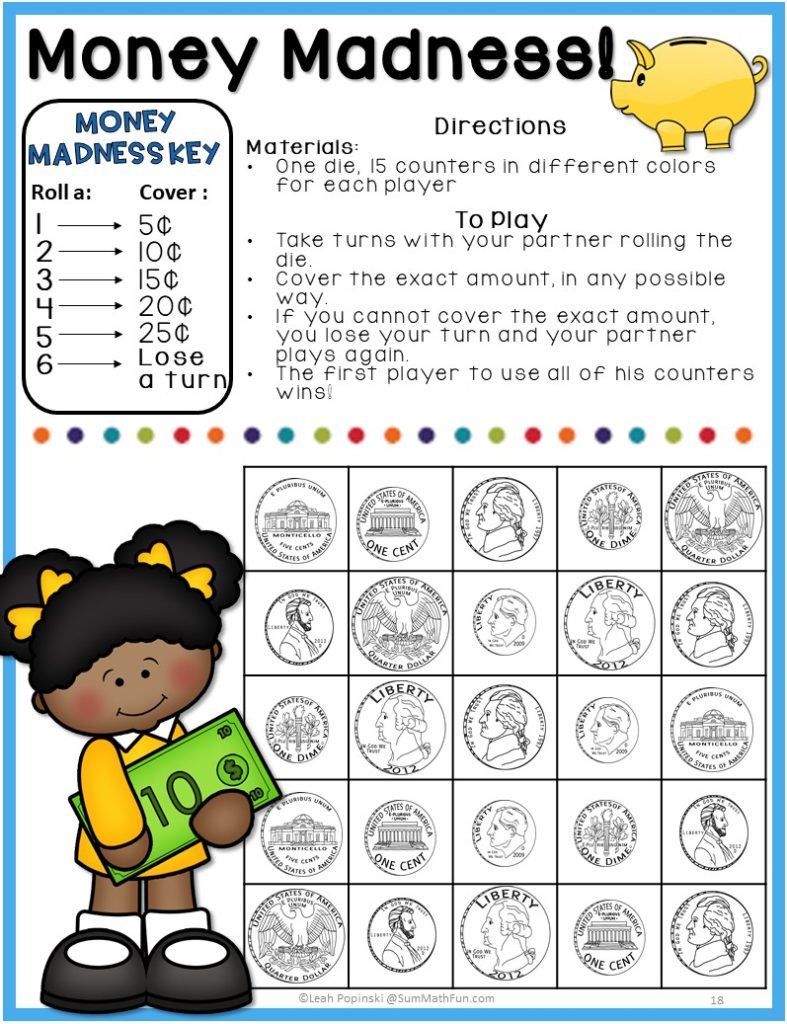 Focus Skill:

Matching coins to their value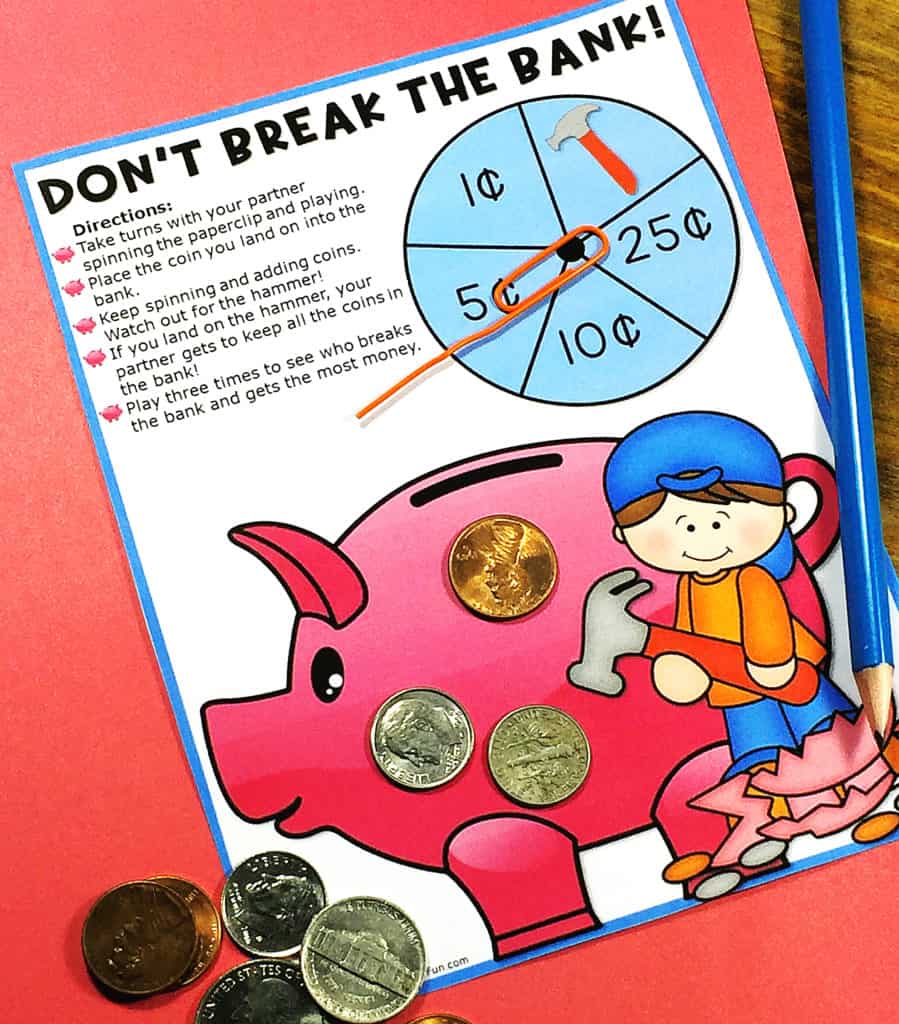 Focus Skills:

Recognizing the value of each coin and counting coins.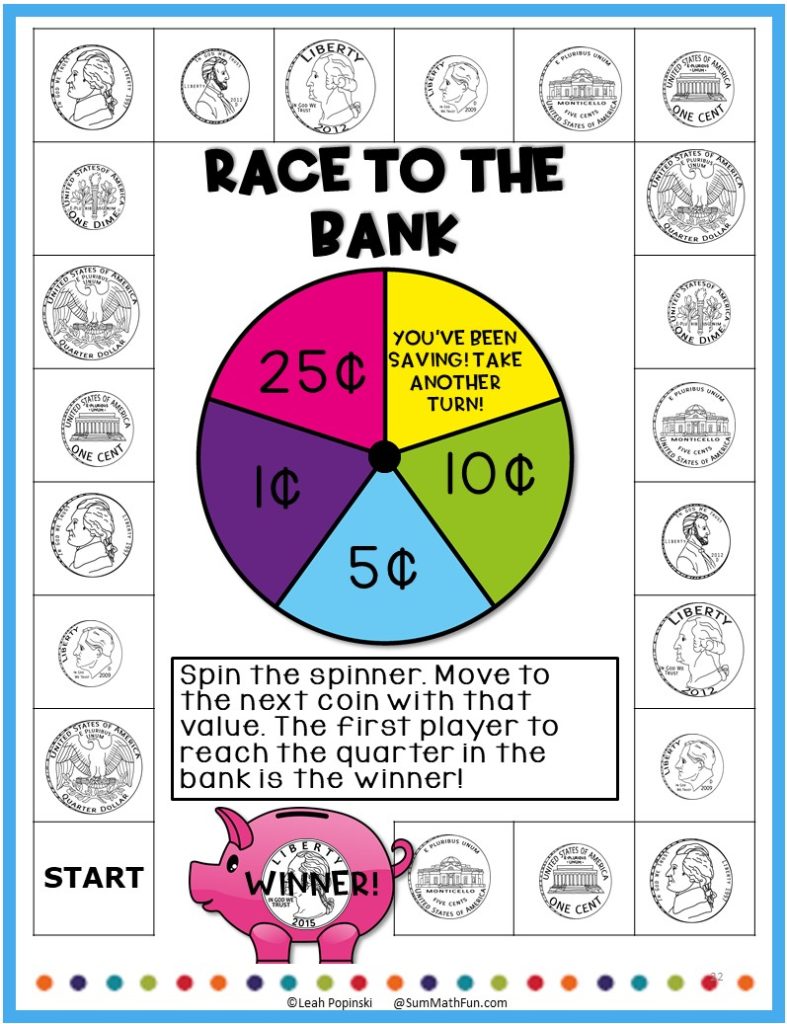 Focus Skills:

Recognizing the value of each coin and counting coins.
This game can be modified easily by having a Bank (pile of coins) for students. As they land on a coin, they take that coin from the bank. When one player lands on the piggy bank, each player counts up their coins. The player with the greatest total wins that round.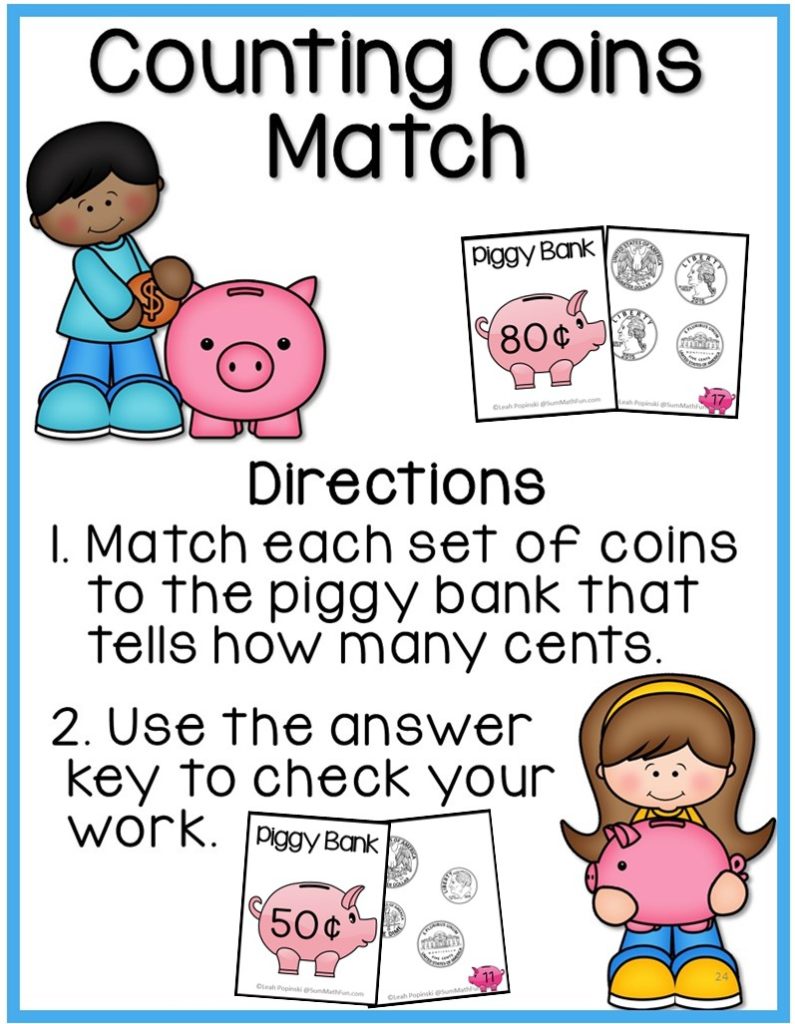 Focus Skill:

Counting coins.
In addition, using the answer key for this matching game will give students immediate feedback + save you valuable time. Additionally, having an answer key with games helps keep kids accountable.
Moreover, the cards can be matched for an individual game or played as a memory game with a partner. Furthermore, you can receive these matching coin task cards for Free. See the form at the bottom of the post!
Focus Skills:

Counting coins and listening.
Indeed, our kids love playing I have ...Who has…? In this version, differentiation is supported by 7 different cards with an orange piggy bank in the lower right corner. It should be noted that each of these differentiated cards has coins that can be counted without the need to switch counting between different coin amounts. Subsequently, by giving these cards to those students who are still struggling with counting money, or who are just less confident, all students can easily participate.
3. TEACHING MONEY – Moving Into the Abstract Level:
After all of these experiences with concrete and pictorial representation, students will indeed begin to move into the abstract level.
Like previous page examples, the first worksheets that students receive should have pictures of coins that are real-life size. This allows students to place real coins over the pictures. Doing this will help move students seamlessly from concrete to pictorial.
Importantly, students will automatically stop placing coins on top of the pictures when they are ready for the pictorial level. 👏👏🏻👏🏼👏🏽👏🏾
Obviously, worksheets should be leveled and assigned to students thoughtfully.
And, they should definitely begin by featuring just one coin at a time, in like manner as your first introductory lessons.

.
Beginning coin worksheets:
Depending on the level of your students, you may want to begin with all heads moving to all backs, and then mixed.
Furthermore, make note of students' success as you have them do worksheets.
If you notice a shift in success, it's indeed time to back up. Select specific center activities to support the needed skill and assign that activity to those students before continuing to progress through skills at a higher level. **Unlike previous coin pictures, these are proportional to each other but are not true-life size. Children can not place real coins on them to help them count.
Not only do these worksheets have like coins together, but they are also arranged from the largest amount to the smallest amount to support the counting process.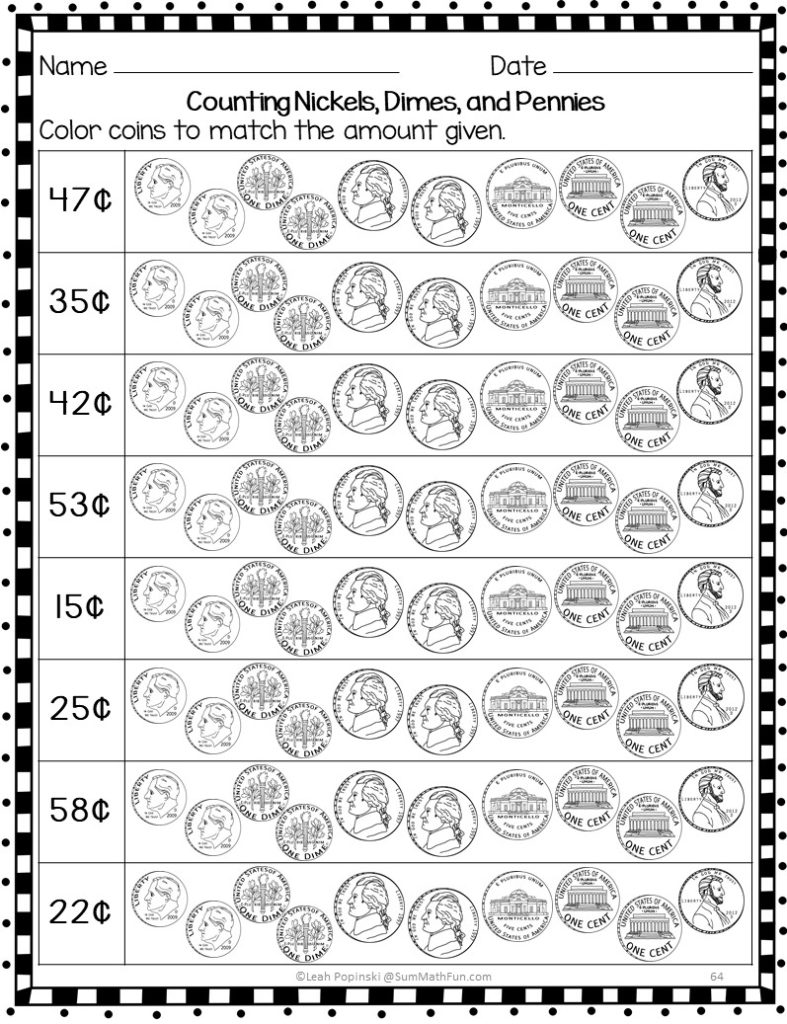 Focus Skill:

Grouping and counting coins.
The next mini-step in learning about coins is to present worksheets that have like coins together but not in nice straight lines and not always quarters, then dimes, then nickels, then pennies. Students will practice counting and organizing coins by their value in ways that make sense to them.
Whew! Almost to coin counting mastery! 😃
Skill focus:

Counting mixed coins and evaluating matching amounts.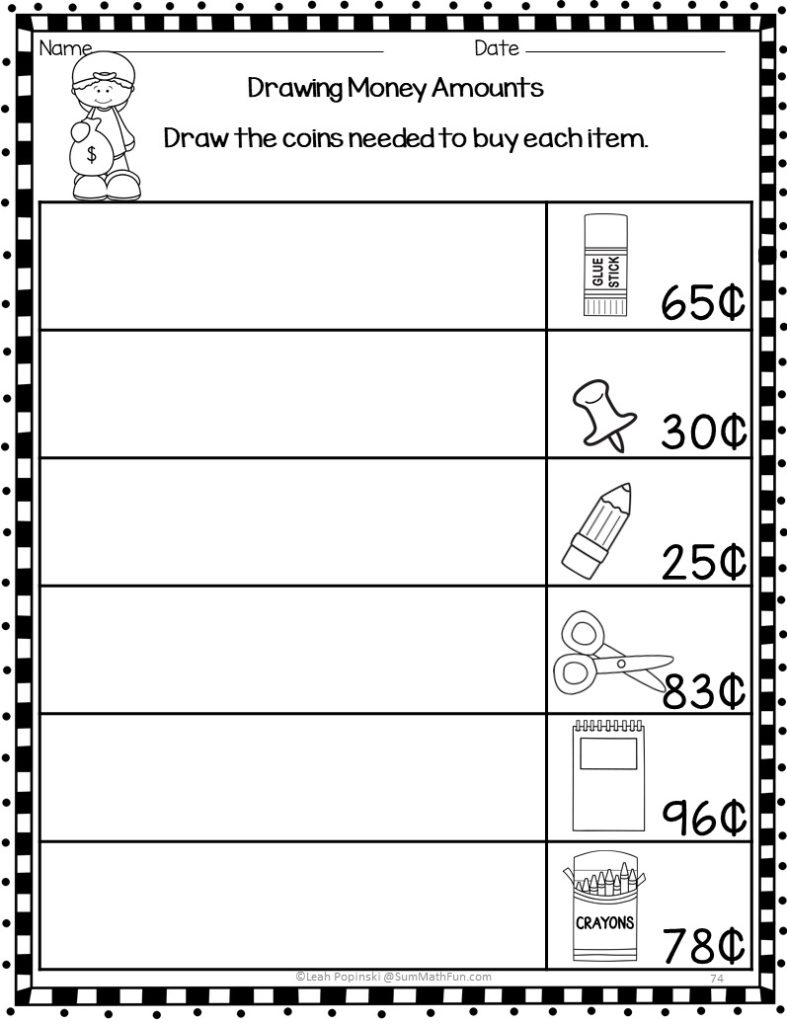 Focus Skill: Counting and drawing coins that equal a given amount – Abstract Level.
.
4. TEACHING MONEY – Abstract Level:
After that, we are finally to the completely abstract level.
Teach students how to quickly draw a model of each coin – I usually teach them to draw a circle and write the coin value inside. That's it! Clearly, you want to model an easy and efficient way for students to quickly solve problems.
Meanwhile, depending on the student's level, I may have them also write the cent sign and draw the coins as proportionally as they can.
.
5. The very last of the money skills is

making change.

And that will be another blog post! 😁✍

If your math textbook does not support these steps in teaching money skills, you can find all of the above pages + more in the resource below.
Do you want to absolutely love teaching money? Just click the picture below to find everything you need!
Importantly, having these pages on-hand will save you tons of time.
In addition, all of your students will be learning and having fun at their own level.
In fact, everything is already differentiated for you!
Your math planning will be an absolute snap!

I'd love to know how your money unit is going. Do you have enough support in your math textbook?
I hope having each of these steps in detail is helpful and saves you tons of planning time.
In addition, to the freebie, if you'd like more money activities, check out these from my TpT store. I think you'll ❤️ them! 😊
In addition to the free task cards below, you can find another free money resource in this blog post – Build a Snowman Free Money Center
To have a FREE set of 24 Matching/Memory Money Task Cards (48 total cards) – with super cute graphics to engage and motivate! – sent straight to your email, subscribe below! You'll love having these on-hand and ready to go. They are great practice and review, plus tons of fun for your kids! Grab them now for FREE!
.
Thanks!
.
And as always . . .
.