It was the end of May of my first year of teaching. The end of the year. I had made it through my first year. 🎉 Then, I heard another first grade teacher talking in the teacher's lounge. She was expressing concern over where she was going to put everything she had to pack up.
I quickly understood that I was supposed to "put away" everything. Wait! What!?? I thought I would have the same classroom forever and could just leave things as they were when I left each year. Newbie!
Of course, this was not the case. And I had only two days to clean out WHILE teaching! 🤦‍♀️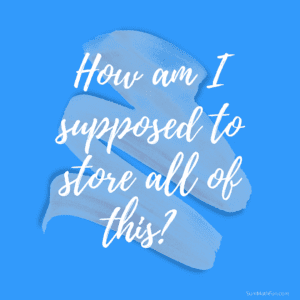 So, on my way home, I picked up some boxes from the grocery store. I had no idea what I was doing. And I was desperate.
The next day, I enlisted my students' help in "packing" the boxes.
Can you see it? Twenty-five first graders ran all over the room, gathering all the things I'd worked so hard to create. Twenty-five first graders throwing things in boxes!! Books. Folders. Files. Bulletin board creations. Scissors. Tape. Stapler. Crayons . . .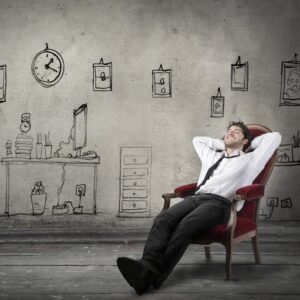 Oops! Definitely NOT like that.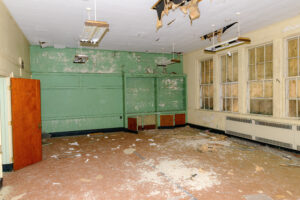 There! More like this.
There was NO organization
Yes! It was a disaster.
At the beginning of my next year, I definitely paid for that. I couldn't find anything and basically had to start over. 🔙 It was frustrating and I promised myself I would ALWAYS organize diligently and with thought, not only at the beginning of the year but also at the end!
The Importance of Organizing As you Pack-Up
The end of the year can be chaotic. You're tired. The kids are tired. And there is so much to do! But you MUST organize all your things AS you put them away. You DO NOT want to have to do it all at the beginning of the year as I did. So, you'll need organizational supplies.
Classroom Organization Supplies Must-Haves
The supplies you use for classroom organization will vary. But having classroom storage ideas ready to go when you pack up your classroom will save you tons of time. You probably purchased some containers throughout the year as you needed them. Now is the time to take a detailed look at what worked and what didn't work. What would you like to have next year that you didn't have this year?
I know you don't want to spend your last days with your kids packing and putting away "all the stuff", or even the last days of the summer searching Amazon, going to Target, or searching Google for organization ideas. Now is the time to begin! Being a procrastinator myself, I completely understand waiting. But I don't want you to be like me and have your students running all over your room those last few days as they "help" you pack up!
Supplies for Your Library
As you put away your library, organize it. It will make finding the books you want to start the year so much easier! There are many ways you can organize your library. In primary grades, teachers often use bins like these. I love the bright colors. And, they even have dividers and super cute built-in labels! ❤️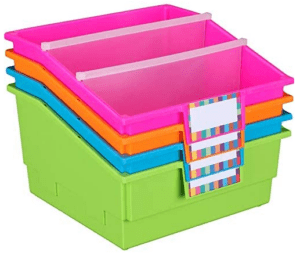 If you are in a transitional year, like 2nd or 3rd, and you have chapter books and picture books you may also use these containers to help organize your library. When using these to store your books, if you have time, simply use a sheet of cardstock, label it and use it to separate your books as you organize them into the containers.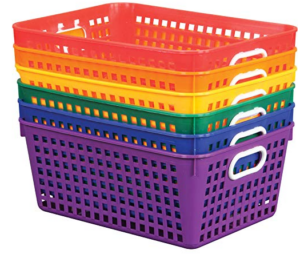 Bins are great tools in upper elementary as well. However, many teachers decide to label their books directly with stickers based on genre or other topics. You can use these Avery Labels. They can easily be color-coded on the computer or typed on to create simple and functional labels for the books in your library.
You may also want to grab white cardstock and have students create their bookkeepers. Once they take a book from the shelf or bin, they put the bookkeeper where the book was. They can quickly return the book to the correct place by finding their bookkeeper. This is a great help in keeping your library organized!
Classroom Organization Supplies for You
Teachers have a lot of supplies and need someplace to store them! The amount of "little things" teachers accumulate throughout the year can be overwhelming! Paper clips, push pins, counters, staples, tape, magnets, stickies . . . But don't worry; teachers have come to the rescue of each other and have found some excellent classroom organization supplies for themselves.
Using a toolbox for all your daily supplies will be a huge help. It's very easy to have classroom organization of all your things with this toolbox. It's simple to label with Avery Labels, so you know where all of your essentials are. It is an investment that you will be glad you made. It's a place for you to keep all of your markers, paper clips, push pins, and pretty much all of the daily supplies you need throughout the day. Have it labeled and ready when you need a place to put your desk supplies when packing up and leaving your classroom for the summer. You can even remove the drawers and spray paint the cabinet to match your room colors! Awesome!!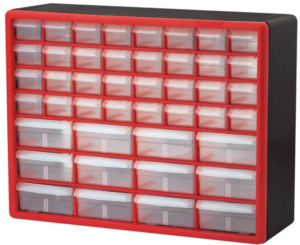 If you need to empty your file cabinet, you will love having these folding milk crates and hanging folders on hand. You can organize your files directly into the crates. At the beginning of next year, you can remove your files and place them directly into your new file cabinet. Then, just fold the crates and store them for the repeat process at the end of the next year. These are really sturdy, foldable, and have guides for hanging file folders. Perfect for organizing all the stuff!
They also make a perfect place to organize your Astrobright-colored paper and cardstock. You can also label each folder with a student's name and have a quick place to place copies of tests, quizzes, or other important papers, creating a simple student portfolio when the school year starts. I love that I can move milk crates so that they are close at hand for grabbing just the files I'm currently working on – no digging through my file cabinet!
Classroom Organization Supplies
There are so many types of classroom organization, and figuring out which ones will work best for you in your classroom is really up to your specific needs and classroom setup. These classroom organization items are ones that I frequently buy more of to keep my classroom organized. I always make sure I have them on hand for those end-of-school days when everything has to be put away. Organizing as you go is so very helpful!
I hope these ideas are useful to you too!
Each link above is an Amazon affiliate link. You can find out more about our affiliate policy here.
Don't forget to check out a couple of my other blog posts:
Thanks!
And as always . . .