Do you find that throughout your school day, you have a few minutes when you need a quick, easy math time-filler? Any time is math time – or can be math time.
During the school day, there are many transitions when there are a few minutes of waiting time for students. Having some quick math time-fillers at your fingertips and ready-to-go can be a teacher's life-saver.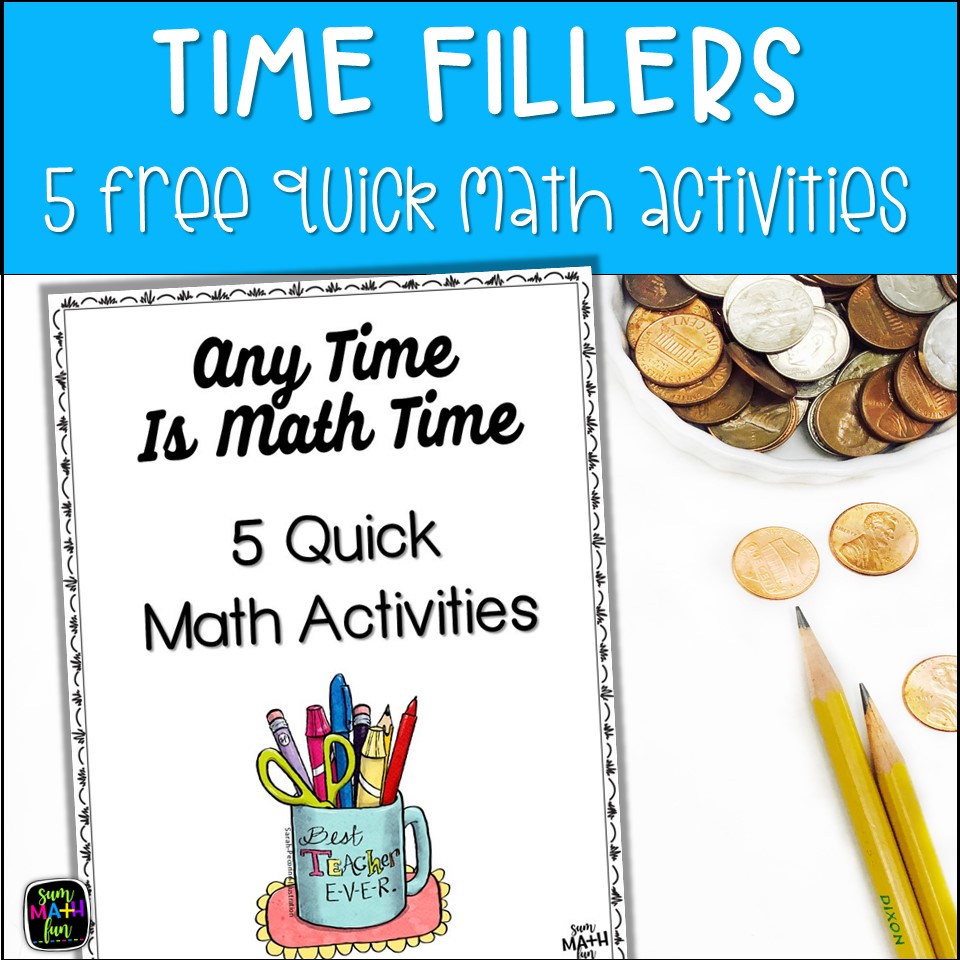 Use these quick math time-fillers any time you have a few minutes to fill.
MATH IN YOUR SHOES

👟
Ask students to look at their shoes and the shoes of their classmates. Tell them you'd like to learn more about them – but, you want to get your information in the form of fractions. For example: What fraction of the class is wearing socks? What fraction of the class is wearing shoes with blue on them?
MEASUREMENT Q AND A

📏
For these math time-fillers, keep a meter stick or yardstick prominently displayed in your classroom – a ruler also can work well. I assign a "Measure Master" who carries it with us when we leave our classroom to go to other areas. When you're in the hallways of your school, ask students how many yards (meters, feet, centimeters) long various distances or objects are. Your Measure Master can choose a partner to work with them to use the yardstick and find the actual distances. Discuss class estimates and actual measurements. If appropriate, allow your Measure Master to lead the discussion.
COINS IN MY HAND

💰
Try these mental math time-fillers. Keep a container of play money somewhere that is easily accessible for you. Choose some coins from the container to keep in your hand or pocket. I use a small sticky note to write down the amount and number of coins. There are often interruptions and I may not remember by the time we get to play, so having it written just saves time. When students are waiting, announce that you have a certain number of coins in your hand and they are equal to a certain amount. Can they guess what the coins are? Allow students to ask you yes or no questions. For example: Do you have any nickels? Do you have 3 quarters?
WHAT'S THE DATE?

🗓
Ask students to name today's date. Then ask a volunteer to name something mathematical about the date. For example:
March 17

17 is an odd number (or 17 is a prime number). March is the 3rd month of the year and 3 is also odd (or 3 is a prime number).

If I double 17, I get an even number. If I triple it, I get an odd number.

When I add the month number, 3, to the date number, 17, I get 20.

October 18

The factors of 18 are: 1, 2, 3, 6, 9, and 18.

If I divide the month number, 10, by the even number 2, I get the odd number 5.
These are super easy math time-fillers that will never be the same because you're using the date! Perfect! 🤓
TIME TO PICK ME

⏰
These math time-fillers work well when you need to choose a student to do a popular task. Tell students to close their eyes and raise their hand as soon as they think a minute has passed. Tell them to count quietly to themselves to help them judge the time. Choose the person for the task whose hand goes up closest to a minute.
These easy math time-fillers are adapted from: Brain-Boosting Math Activities: Grade 5
We'd love to know what quick and easy math time-fillers you use. leave a comment below to share. 🤓
You can find more free activities that will turn waiting time into learning time in these posts: