Are you heading back to school soon? Or maybe you are just starting your teaching career and are a first-year teacher. In either case, you will want to check out this list of essential classroom supplies for teachers.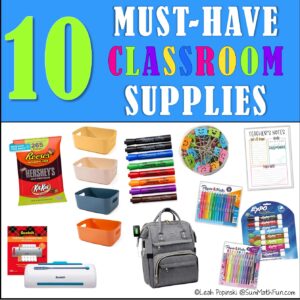 It is the stuff you need to make it through the year happy, healthy, and prepared. I was in the classroom for over 20 years, and I have used and bought so many different items for myself and the classroom that I'm sure that when it comes to essential classroom supplies, I have to be an expert on what works and what doesn't. 🤓
Essential Classroom Supplies
Because I could quickly list over 50 must-have items, narrowing a list down to 10 was a challenge. So this list of 10 teacher must-have supplies for a classroom is an absolute. You will need and use each of these items. And you will want them on-hand and ready to go when school starts.
#1

Dry Erase Markers – An Essential Classroom Supply
Many teachers are putting black dry-erase markers on their classroom supplies lists for students to use. But black is so blah! Grab a pack of colorful dry-erase markers to help brighten your day and your boards! The Expo brand is my favorite!
**A little veteran teacher advice: When storing the markers, keep them vertical with the cap side down to stop them from drying out.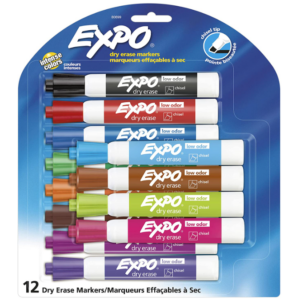 #2

Binder Clips

– An Essential Classroom Supply
Binder clips are definitely one of the must-have classroom supplies. All those quizzes, essays, and homework sheets can quickly fall off your table or desk and scatter everywhere, making it a HUGE mess. With binder clips, you can easily keep everything together! Binder clips are no longer just black, so you can find clips to match your personality, from leopard to neon and everything in between. But these cheery little binder clips are my favorite! The kids love them, too!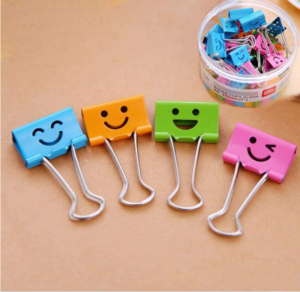 #3

Laminator

– An Essential Classroom Supply
If you are lucky enough to have a school laminator…YAY! Many schools have one, which is often broken right when you need it! A personal laminator makes it easier and quicker to laminate things like task cards or essential papers you want to keep clean! And, if you are planning and gathering materials at home, it is so much easier to "get it all done". I suggest getting a more expensive laminator or a "pro". It will last longer and be better quality than the cheaper ones! I learned this the hard way just when I desperately needed it, my cheaper version just quit! It wouldn't even turn on!🤦‍♀️This one also includes 200 laminating pouches!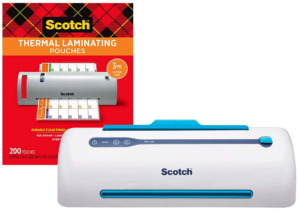 Get rid of the red pen! It is just not a friendly color, and many people associate red with anger. Having a rainbow of colors available is helpful when grading, but when taking notes during that never-ending faculty meeting, a bright pink or orange pen (my favorites) may just brighten your day a little and even make that meeting seem a little shorter! 😎
When creating anchor charts or signs for bulletin boards, it is always a good idea to have some good-quality markers. These Sharpie markers are the absolute best. They never dry out and are easy to write with. Whether you are a genius anchor chart creator or just a novice, these are perfect for anyone!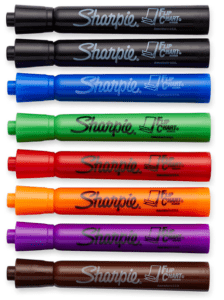 #6

Storage Bins

– An Essential Classroom Supply
It's always a good idea to have some storage behind your desk for things that just don't fit in other places. Maybe stickers, special stamps, thank you cards, etc. I like having storage bins that are not completely see-through and are open at the top to make it easier for me to grab things out.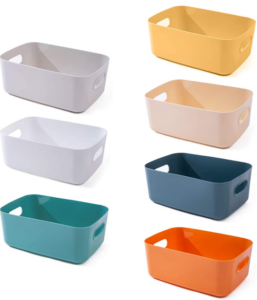 #7

Teacher Toolbox

– An Essential Classroom Supply
Classroom organization is your best friend when a teacher and a teacher toolbox will help keep everything organized and in its place. These drawers fit paper clips, binder clips, markers, post-its, and so much more. On TPT, you can even find little customizable covers for each drawer!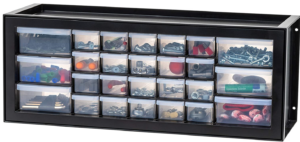 #8

Teacher Notepad

– An Essential Classroom Supply
Not one to have a monthly teacher planner? Just want to bring something you can stick into your bag after the meeting and head home. Grab a teacher notepad that has all the important information you need. These are super cute and hit all the necessary information. They make it easy to take quick notes and keep them all together.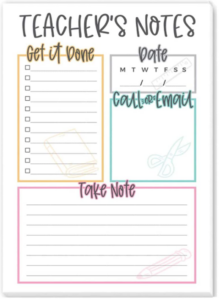 #9

Teacher Bag

– An Essential Classroom Supply
Some parking lots are far from your classroom, and carrying a coffee, laptop, papers, keys, cellphone, etc., to your classroom can be challenging. Buying a cute and comfortable teacher bag is a great solution. Many backpacks now have a spot for a laptop, and this one even has a place to charge your cellphone! And it also comes in tons of colors so you to choose your fav. You will not regret having this essential on hand!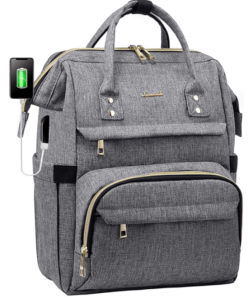 #10

Candy

Stash

– An Essential Classroom Supply
Every teacher needs a secret candy stash. There are some difficult, long, and straight-up awful days at school. And, a little sweet treat can go a long way! Sweet, salty, sour, whatever you like, find a large bag, a hiding spot, and enjoy! 🍬🍭🍫 This huge bag of chocolate is my favorite. It even ships with cool packs – no melted chocolate!💗

These are just 10 items I feel are essential when it comes to being prepared as a teacher! I know there are millions of other things teachers find helpful! If you have something you absolutely love and I left it off the list, feel free to comment and let others know!
If you have a question about a specific item or just a question in general, don't hesitate to email me directly at [email protected].
Shop, get ready for a great school year, and enjoy! 🤓
Each link above is an Amazon affiliate link. You can find out more about our affiliate policy here.
If you need classroom storage ideas, check out this blog post with ideas for teacher supply storage as well as storage for task cards, your classroom library books, and much more.
—> Helpful Classroom Organization Supplies for End of Year
Thanks!
And as always . . .