Back to school time already? Every summer seems shorter and shorter. There is always so-o-o much to do to get ready for those first few days. And, having a great packet of ready-to-go math activities is one of the first things that's always on my list.

Whether you are a new or veteran teacher, being ready for that first day of school can be quite overwhelming. Planning is much easier after you've set your expectations, routines, and procedures. But this takes a while. So, that first day, or even week, is a time to get to know your kids and establish routines to build relationships and a class community.
The first few back-to-school days have to be planned to the minute. And then, you need extra resources ready, just in case! You need a Back to School Packet that is so-o-o-o engaging that your kids will be busy – engrossed. They have to be able to complete it independently because you have a gamillion teachery back to school things to take care of – not including your kids!!
IT'S BACK TO SCHOOL TIME. ARE YOU READY?
These back-to-school packets have a print version and a digital version. They will take care of, "What am I going to have my kids do that's actually meaningful?!"
I love them! They are filled with no prep back-to-school activities that are fun for kids and informative for you. There is no fluff, but they are still motivating and truly engaging.
I created back-to-school math packets for 2nd, 3rd, and 4th grades. Each Back To School Packet will give you peace of mind and time to do alllll of the other teachery things you have to do to get ready. Just print and have them on their desks ready to go or assign the digital version in Google Slides™.
❤️

HERE'S WHAT SOME OTHER TEACHERS SAY ABOUT THESE BACK TO SCHOOL PACKETS.
"

This seriously saved my life the first week of school. Ran it as a packet and was able to use it for any fast finisher work. Helped the kids have something to do other than just read when they were done and it was engaging too.

"

– Mckenzie S.
"

Oh, my stars!! I love this resource! I especially love the opening activities where students answer select questions based on their unique attributes! Such a clever way to get to know and assess your kiddos' abilities!!

"

-Candace E.
"

Just love the activities! Fun way to review material and gives me a wealth of information. Could not be happier.

"

-Suzanne S.
"

Thank you! This is perfect. I love the questions that you asked. Your suggestions for use and analysis of student work are wonderful. I love that it's not just busy work but a great way to get information about my kids. Sure wish I'd had this last year. Super!!!

"

-Henry T

.
HUNDRED CHART ACTIVITIES
Our kids l-o-v-e these hundred chart activities and they will give you tons of information about your students. You'll know who remembers even and odd numbers, how many days in a week, rounding, the number of inches in a foot, plus more.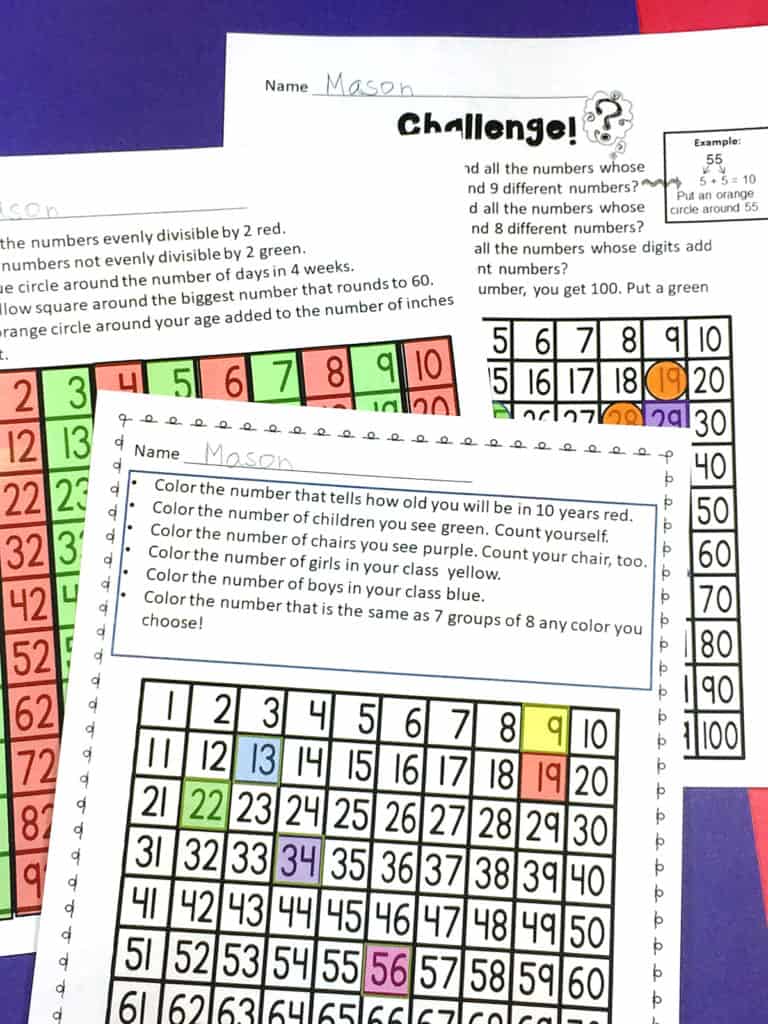 BACK TO SCHOOL CHALLENGE PAGE
The back to school challenge page above will tell you which students understand adding the digits of a number to find a sum and then finding that number in the sum of the digits of other numbers. You'll also know who can follow an example, who knows what "quadruple" means, and who can predict a number pattern.
FOLLOWING DIRECTIONS
The pages below will definitely tell you who can follow directions. Make note of this as it will be important for the rest of this school year! You will also know which of your students are likely to have a good attitude toward math and which ones are good readers.
My favorite question is question 12 on page 2! I always LOVE seeing how our kids answer this question. And…I love sharing their answers with their parents. So much back to school fun!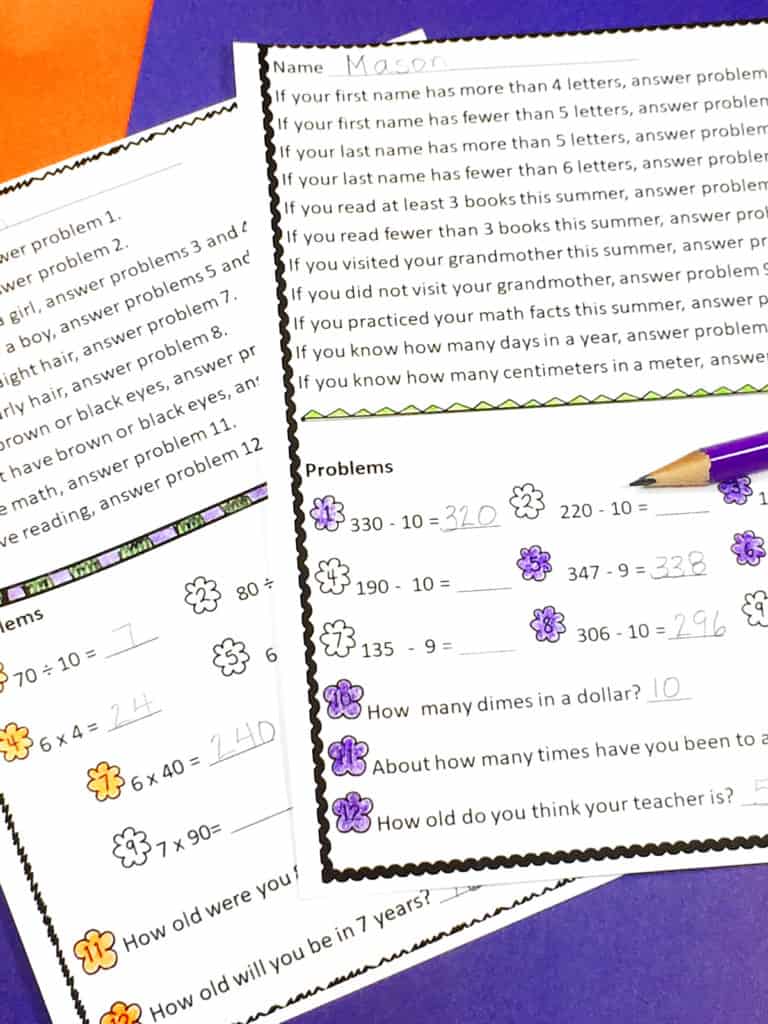 CREATIVE AND GET TO KNOW YOU BACK TO SCHOOL PAGE
Being as creative as we can with our numbers, we model this page for our kids. There are five suggestions given for numbers to use. So, I ask students to use at least seven numbers that tell about them. That way, they have to do a little thinking on their own to come up with two more descriptive numbers. This pushes those who are not very creative in that direction.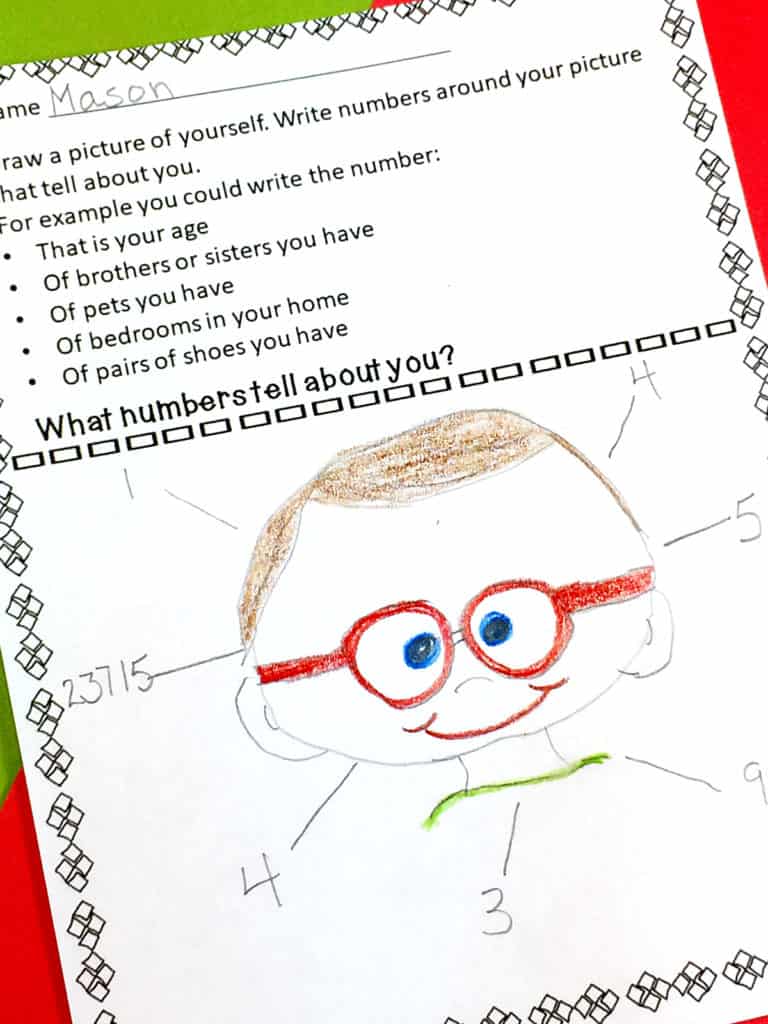 This page makes a really cute back to school display for your Parent or Meet the Teacher Night. It also helps in getting to know more about students on a personal level.
BACK TO SCHOOL WORD PROBLEMS
The pages below show the two word problems in the fourth-grade packet. Both problems are multi-step. Use these pages to see which students comprehend word problems and make a plan to solve them. Also, note the students who skip or avoid these two pages. Uh, oh!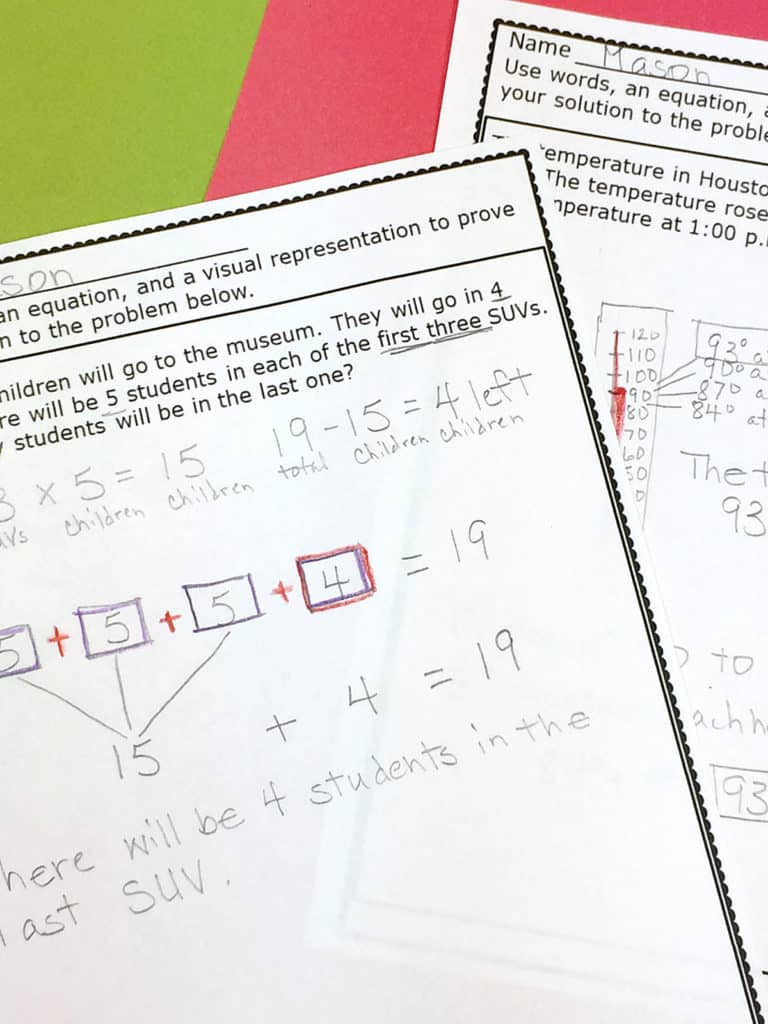 ALL ABOUT ME
This next page is another great back-to-school page to display. It will help you know more about students' attitudes and aptitude for math. I'm amazed at the things students are interested in. I took a picture of this student's work who wanted to know about measurements. Many times students forget that measurement is a part of mathematics. But not this guy!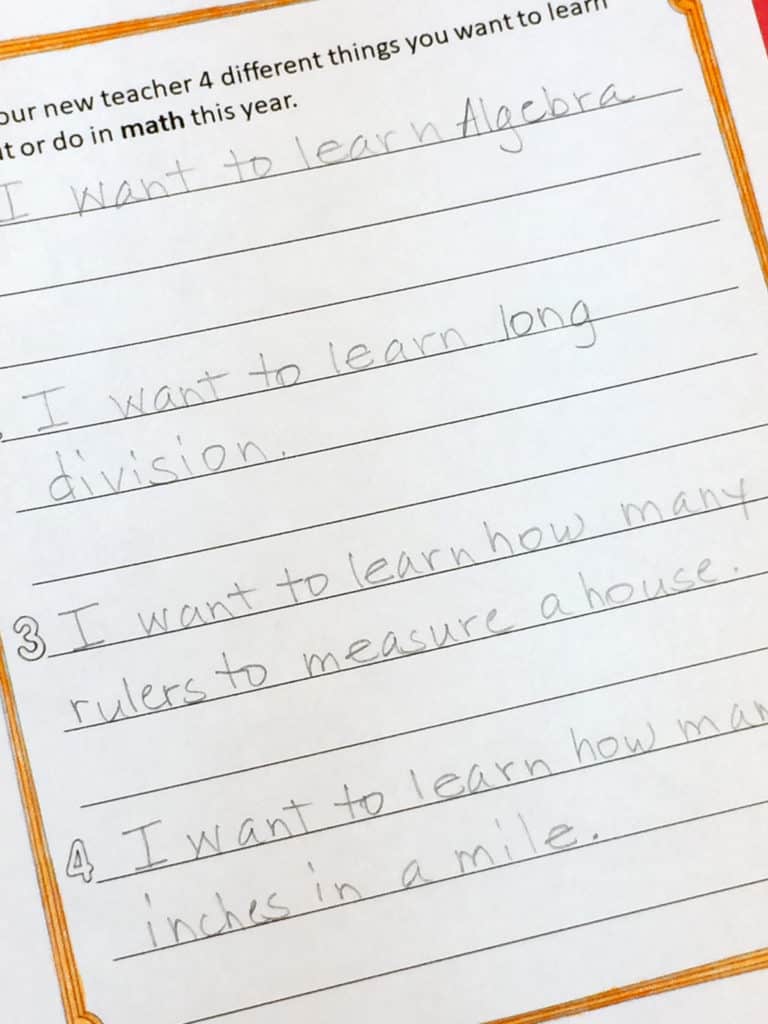 BACK TO SCHOOL COMPUTATION ASSESSMENT
There are three computation pages. Students should be able to add quickly in their heads the problems with no regrouping. It will be helpful to note which students need to re-write each problem vertically.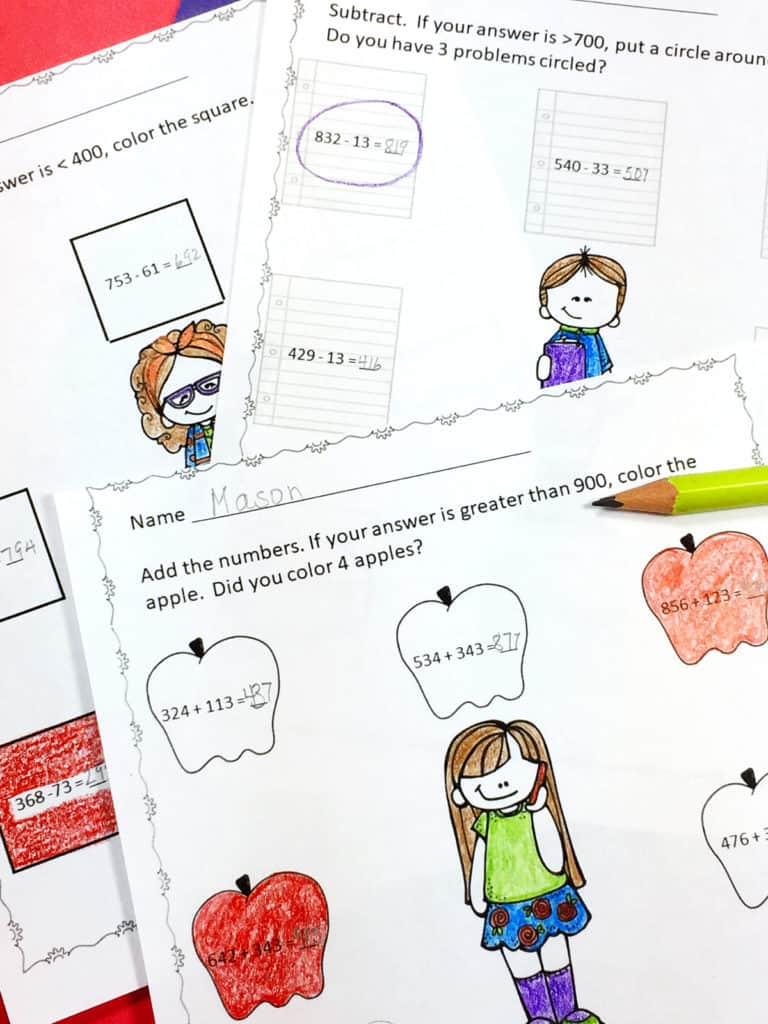 ❤️ Here are a couple of more quotes from other teachers about the packets:
"

During those crazy first few days of class, you always need something for the kids to do on their own. This does triple duty as independent work, math review, and assessment."

-Jennifer
"

This was a lifesaver the first few days of school. It was not fluff work but a great tool I could pull out when I needed a quick filler.

"

-Kara
These back-to-school packets will have you feeling confident and ready for an INCREDIBLE beginning!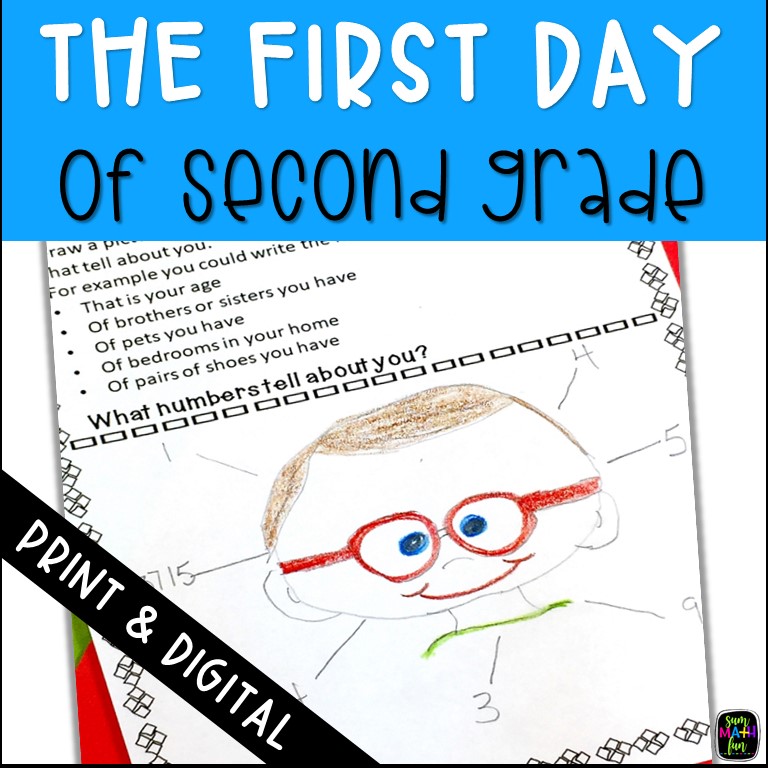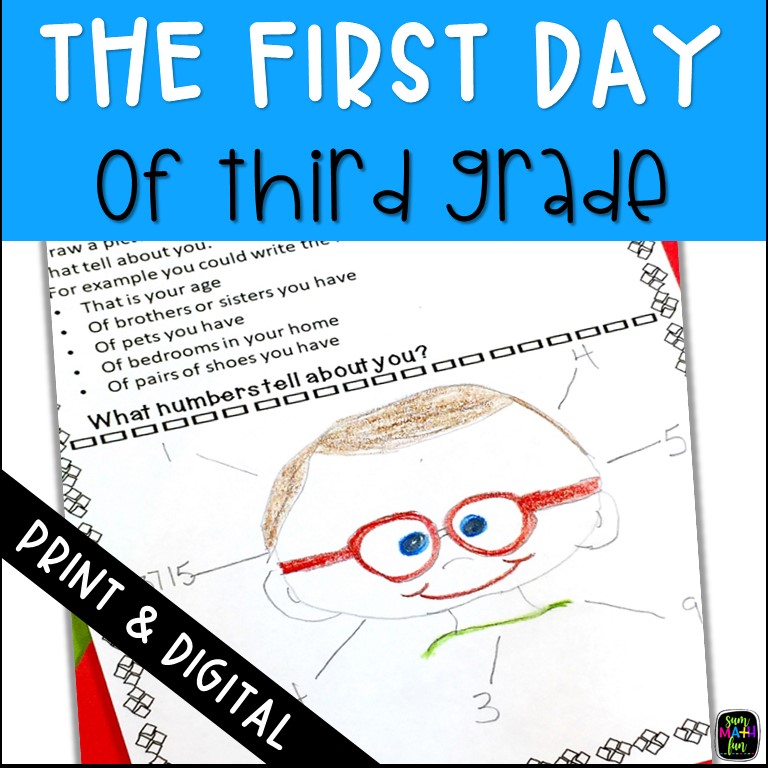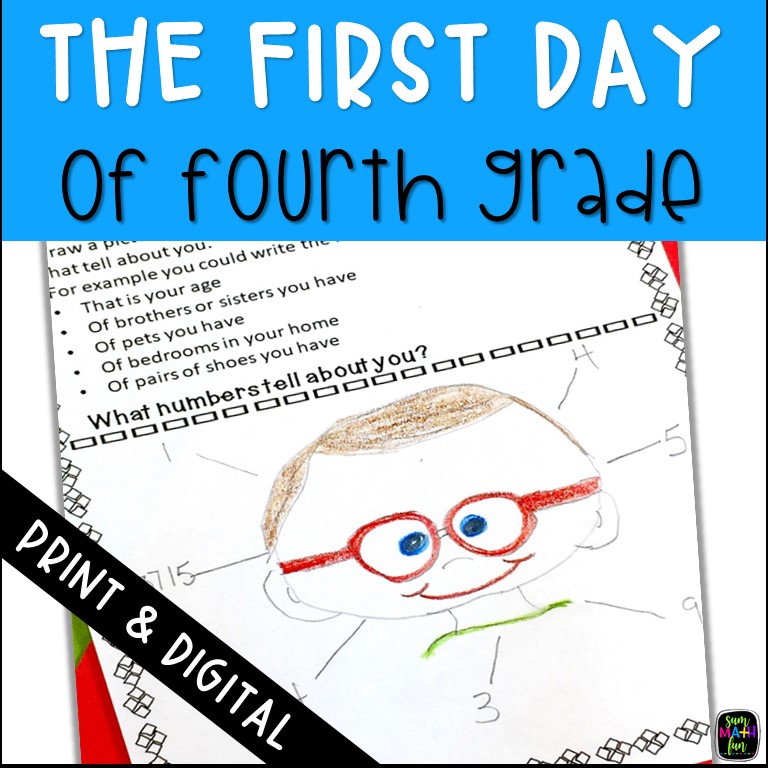 Would you like to try out some free pages from the packets? Here is a sample of the 100 chart pages from each grade level packet – second grade, third grade, and fourth grade! To have them delivered straight to your inbox, just sign up here!
.
For an easy (and fun) birthday management system to deal with student birthdays so that you'll always be prepared and never miss one, check out this blog post. ⬇️ https://www.summathfun.com/effortless-student-birthday-management-system/
Thanks!
And as always,