Fractions! UGH! Just mention the word, and many students shrink. Using hands-on fraction activities is a must when teaching fractions. It can even be FUN! 🤓
Do you need hands-on fraction activities for your third, fourth, or fifth graders that will be challenging, extend thinking and, in like manner, be FUN? Then, try this lesson with free follow-up hands-on fraction challenges and extensions!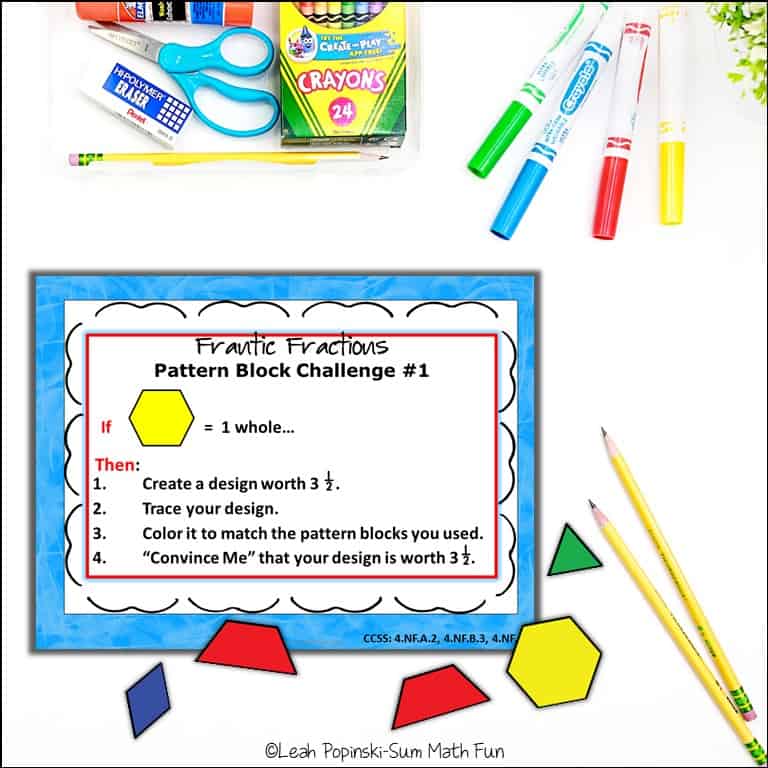 I prefer to implement this lesson in whole group. So here's how it goes.
I divide the class into groups of four and have them spread out on the floor or sit in table groups. Within the groups of four, I pair them so that I end up with groups of two. If possible, give pairs of students a large container of Pattern Blocks. Or, ahead of your lesson, you may want to have some students fill enough baggies for pairs or small groups with at least 3 yellow hexagons, 3 red trapezoids, 4 blue rhombi (or rhombuses – both pronunciations are correct 🤓), and 11 green triangles. Another alternative is to have groups share a large container. The more Pattern Blocks you have, the better. However, I have found that students love this so much that they will adjust and share as needed without problems. It results in being part of the learning.
Just a few teacher notes for this hands-on fraction lesson:
Tables work well if you have nice, quiet Pattern Blocks, such as these foam ones from Didax that come in a bulk set at a reasonable price – https://www.didax.com/easyshapes-pattern-blocks-1250-vp.html
I love modeling the lesson using foam magnetic pattern blocks on a magnetic board. You can find them on Amazon – https://amzn.to/3zBSVwN. (affiliate link)

If your students aren't familiar with Pattern Blocks and their size relationships to each other, you may want to give them time to explore. However, they will do this throughout the lesson, so I jump into guided learning.

Students will discover they are not using the orange squares or the tan rhombi. You do not need to state this.

If you have students make math notes, they will need their math journals.
PATTERN BLOCK RELATIONSHIPS
Begin by asking students to find the largest Pattern Block and state that it is the yellow hexagon, and for now, that will be the whole and equal to 1. Then, on your projection device, model what students should write in their math journals: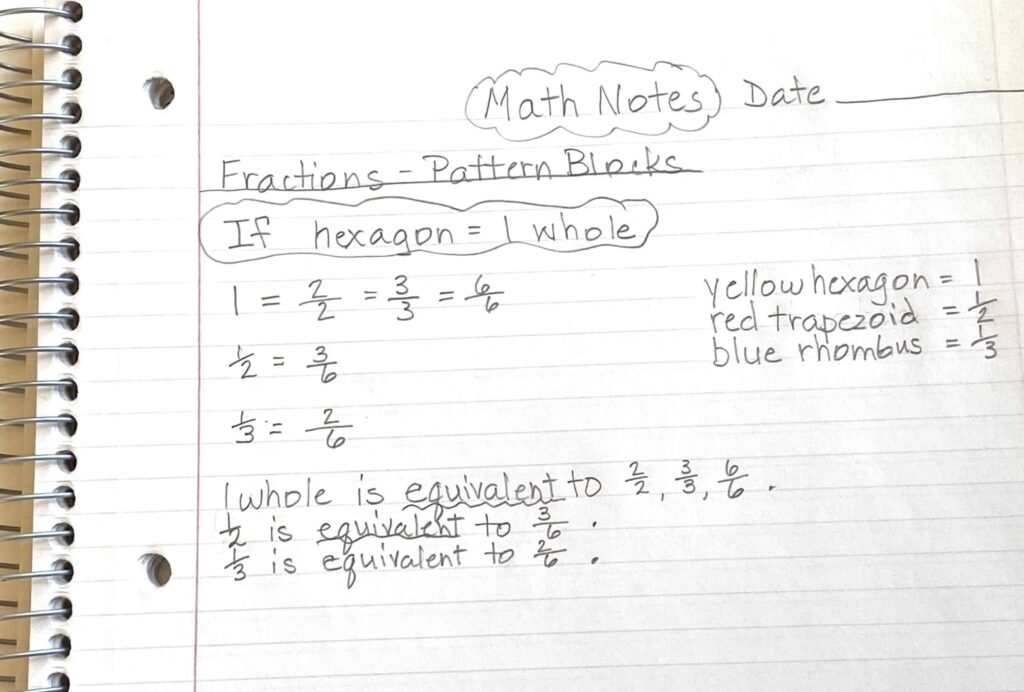 2. Next, students will find equivalents for the whole. For example, say: Using just one color, cover the hexagon. Can you find another way? Students should discover that two trapezoids, three blue rhombi, and six triangles cover the hexagon.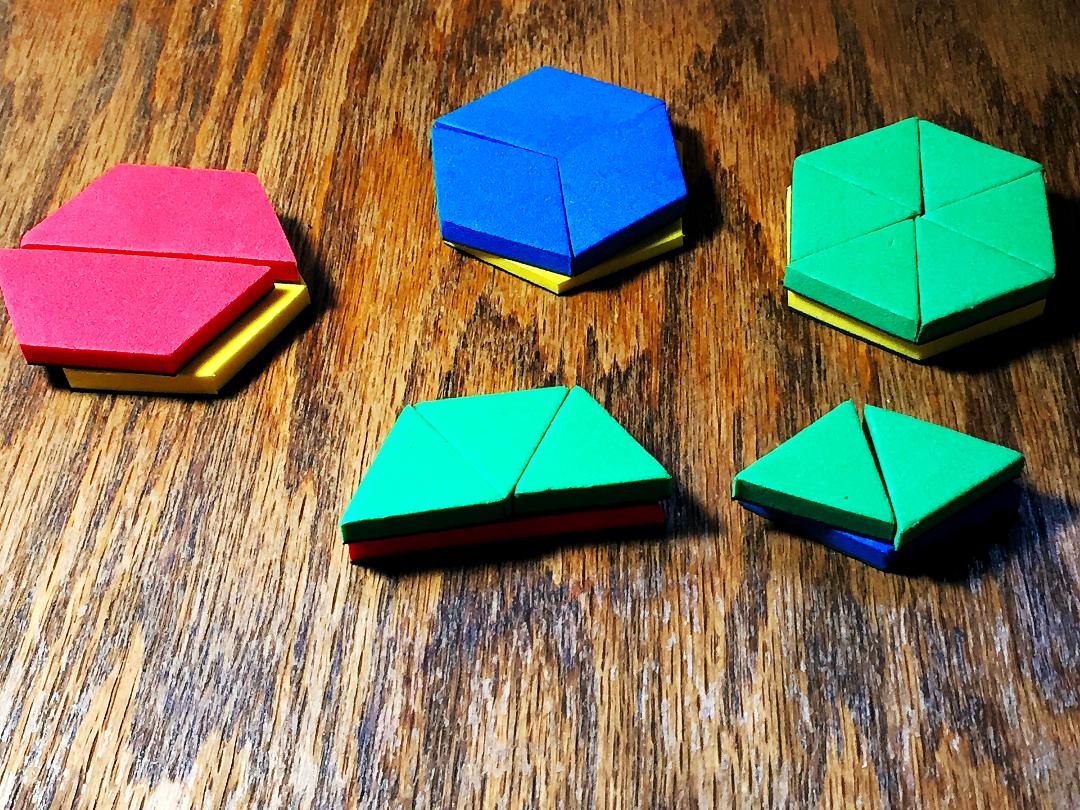 3. Repeat the procedure for the trapezoid and the hexagon, asking students to use pattern blocks of the same color each time.
ASK QUESTIONS
What do you notice?

Do you see any patterns?
What do you wonder about?
4. At this time, give students time to explore other Pattern Block relationships as they cover each piece with assorted shapes and write any observations they want to discuss in their journals.
5. After a few minutes, have a short math talk regarding what they found, noticed, and now wonder about.
USING THE FREE HANDS-ON FRACTION TASK CARDS – PRACTICE AND GO DEEPER
First, present the directions included with the free task cards (subscribe below to receive these freebies). You may also wish to do the first task together or show them the included student examples.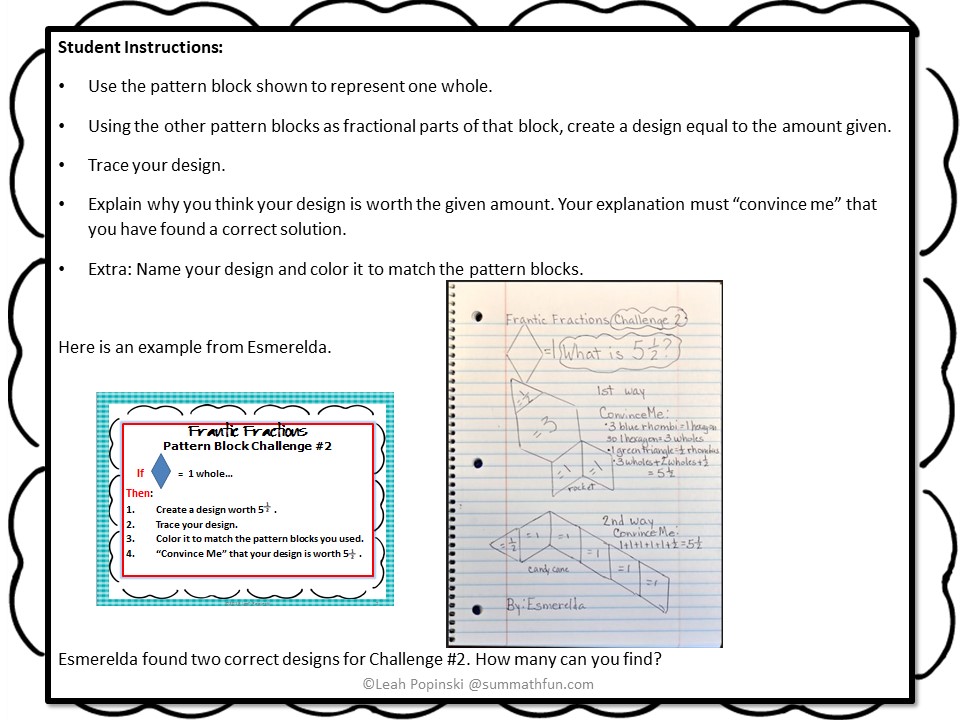 Next, students complete the four challenges presented by the free task cards by using the block designated as the whole to create a design worth the value given. They should complete each challenge in order, beginning with Pattern Block Challenge 1. Encourage students to make exchanges for equivalent amounts. For example, in Challenge 1, instead of using the hexagon for all three of the wholes, to make their design more interesting, they should exchange two trapezoids for a whole, or one trapezoid and three rhombi, etc. This encourages creativity as well as thinking.
Seeing students' creativity in their recordings and their learning in their "Convince Me" statements are my favorite part of the hands-on fractions lesson. Furthermore, they are great to share for math talks! You may choose to stop at any time to have students share their designs and what they have learned. This will give you a chance to clarify as needed.


I've included some completed examples so you can see some students' actual thinking. 🤓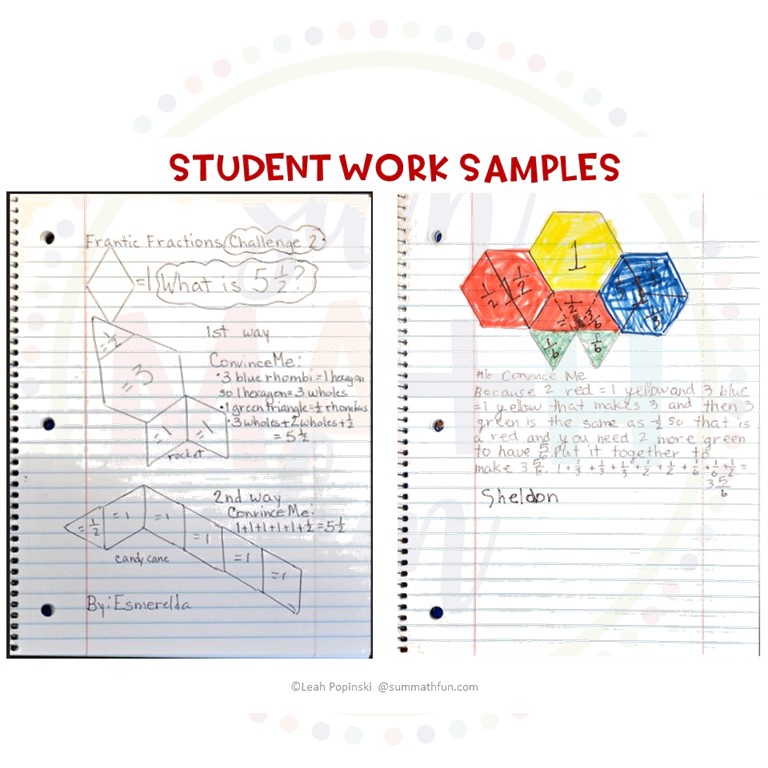 HANDS-ON FRACTION EXTENSIONS
To extend the learning, you will need the purchased resource, Equivalent Fraction Activities – Hands-On Fraction Task Cards with Pattern Blocks, which includes 30 fraction challenges. It is leveled into three sections for easy differentiation.
Challenges 1-10 introduce equivalent fractions like the free challenges included below in the subscriber freebie.

Challenges 11-20 build the relationship between fractional parts, mixed numbers, equivalent fractions, and reducing fractions.

Challenges 21-30 use various Pattern Blocks as a whole number greater than one or as a fraction.
All tasks are labeled with the appropriate math standard and should be completed in numerical order to build a solid understanding of each concept. When appropriate in these hands-on fraction tasks, answers or suggested answers are provided, along with additional student work samples of the hands-on challenges.
At the end of the 30 hands-on fraction challenges, an assessment is provided.
💗 HERE'S WHAT SOME TEACHERS SAID:
Sharon M. – My students really loved these hands-on fraction activities! They challenged themselves to come up with different ways to create fractions! Our principal & superintendent did a walk-through during this lesson. They both thought it was a fabulous hands-on way to explore fractions! Thank you!
Kate R. – Fantastic resource. I used these hands-on fraction activities with my weaker 4th class girls to reinforce their understanding of fractions (although I am now planning to use it with the rest of the class). They went into the exercise confused about fractions and absolutely fed up with them. When finished, they were clamoring to do more. They loved it. Very hands-on. Please make more resources of this caliber!
Vicky N.

– Loved these hands-on fraction activities as an activity on the smartboard. Very engaging and challenging!
To receive this free resource of fraction task cards delivered straight to your inbox, sign up below!
⭐ ⭐ Here are more fraction resources, both DIGITAL, and PRINT:
And as always,

Would you love to have a set of pattern blocks that you could use to demonstrate hands-on fraction activities? I found these on Amazon, and I love using them!
I use these for quiet small group work and for demonstrating on my small magnetic whiteboard. A cookie sheet also works well with magnets. 🙂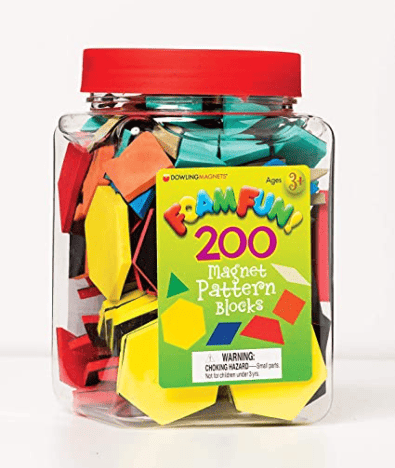 The ones below are plastic and cost less, so you can buy more for whole group work.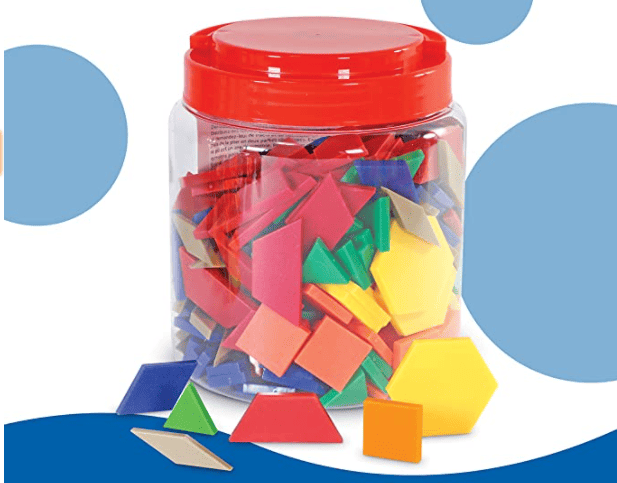 The links in the pictures above are affiliate links. That means if you click on the link and purchase, I get a small amount of that purchase while your price remains the same. Thank you!