Do your Kindergarten or 1st grade students need practice with number bonds? Number bonds give a solid understanding of how numbers can be combined (composed) and split (decomposed).
Addition and subtraction become more understandable once children understand the relationship between numbers. Familiarity with number bonds is very helpful in this understanding. With preschoolers and those entering kindergarten, we work with number bonds to 5 first and then number bonds to 10.
As students progress, the number bonds learned in the early grades help with the addition of multi-digit numbers as well as subtraction of more complex numbers and estimations.
Using Work Mats to Introduce Part Part Whole
Number bonds use part part whole (or parts whole when there are more than two parts) thinking. Before the term "number bond" became mainstream language, I used the term Mickey Mouse Ears to refer to the part part whole mat below. To begin teaching part part whole, I use the "Mickey Mouse Ears" math shown below. I give each student in small group a mat and manipulatives as we work to figure out answers to story problems. The picture below was for the problem: There were 4 children swinging, and 2 on the slide. How many children were there? The students moved the color tiles to represent the picture and because we had already done several problems, for this one, I also had them write the numbers that represented their tiles.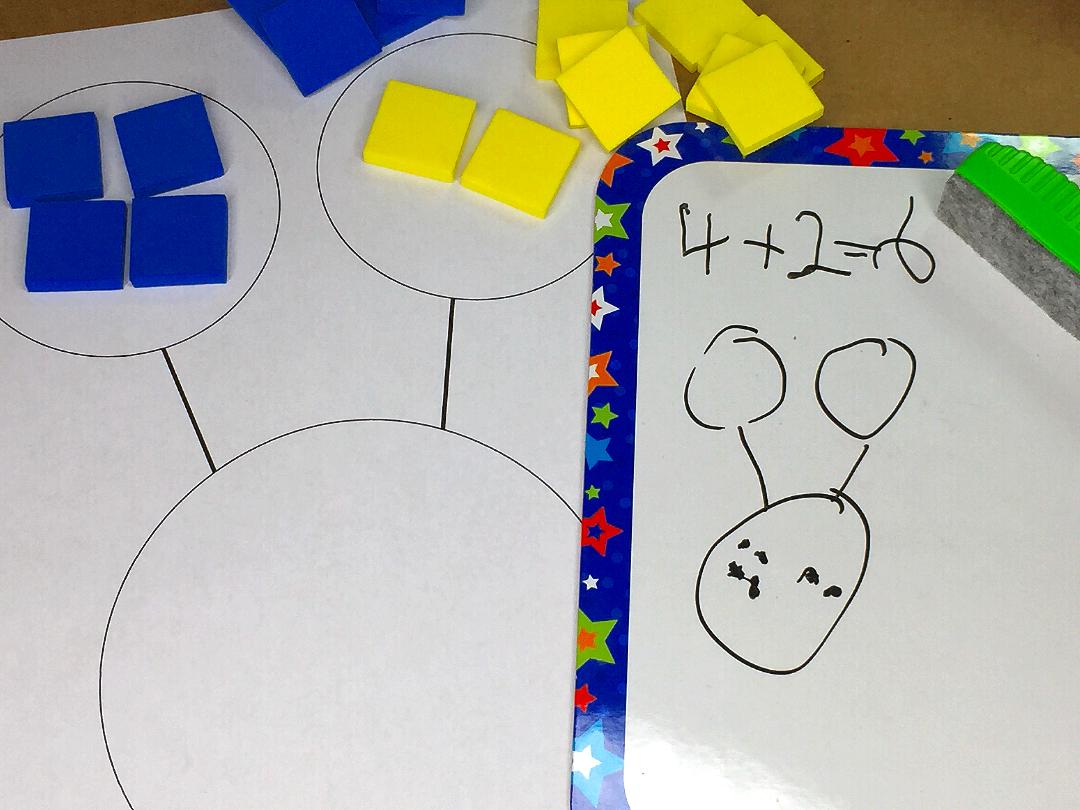 The kids think the "ears" are a lot of fun! I like them because they are easy to turn around to show parts and wholes in different positions. This makes transitioning from addition to subtraction super easy and a natural relationship.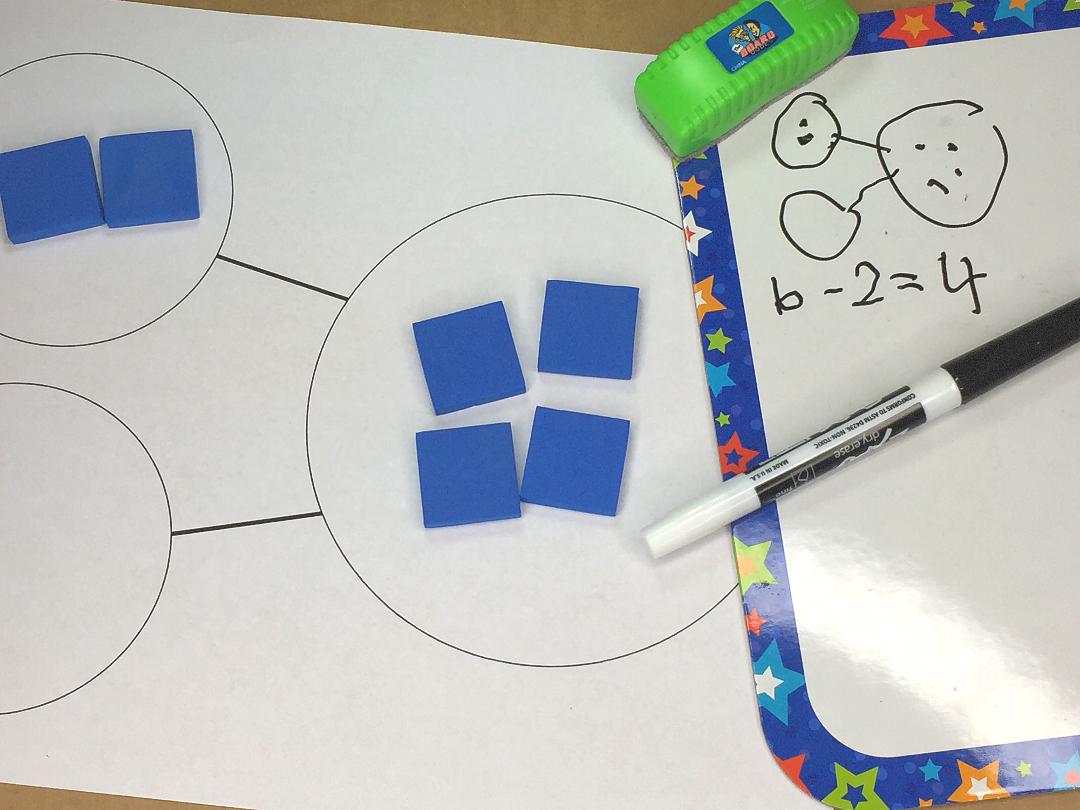 After teaching students with hands-on manipulatives and visuals ( the CPA model of concrete to pictorial to abstract), they needed lots of practice to feel confident and understand number bonds. I created these free Fall number bonds for them. They were great practice. Making them cut and glue made them more engaging and different from a standard worksheet. My kids loved them and asked for more.

What's Included in These Free Fall Number Bond Worksheets:
There are 4 pages of cut and glue free Fall number bonds practice.
Pages one and two include only the parts to make the whole. Students join the parts to discover the whole.
Page 1 focuses on doubles within 10.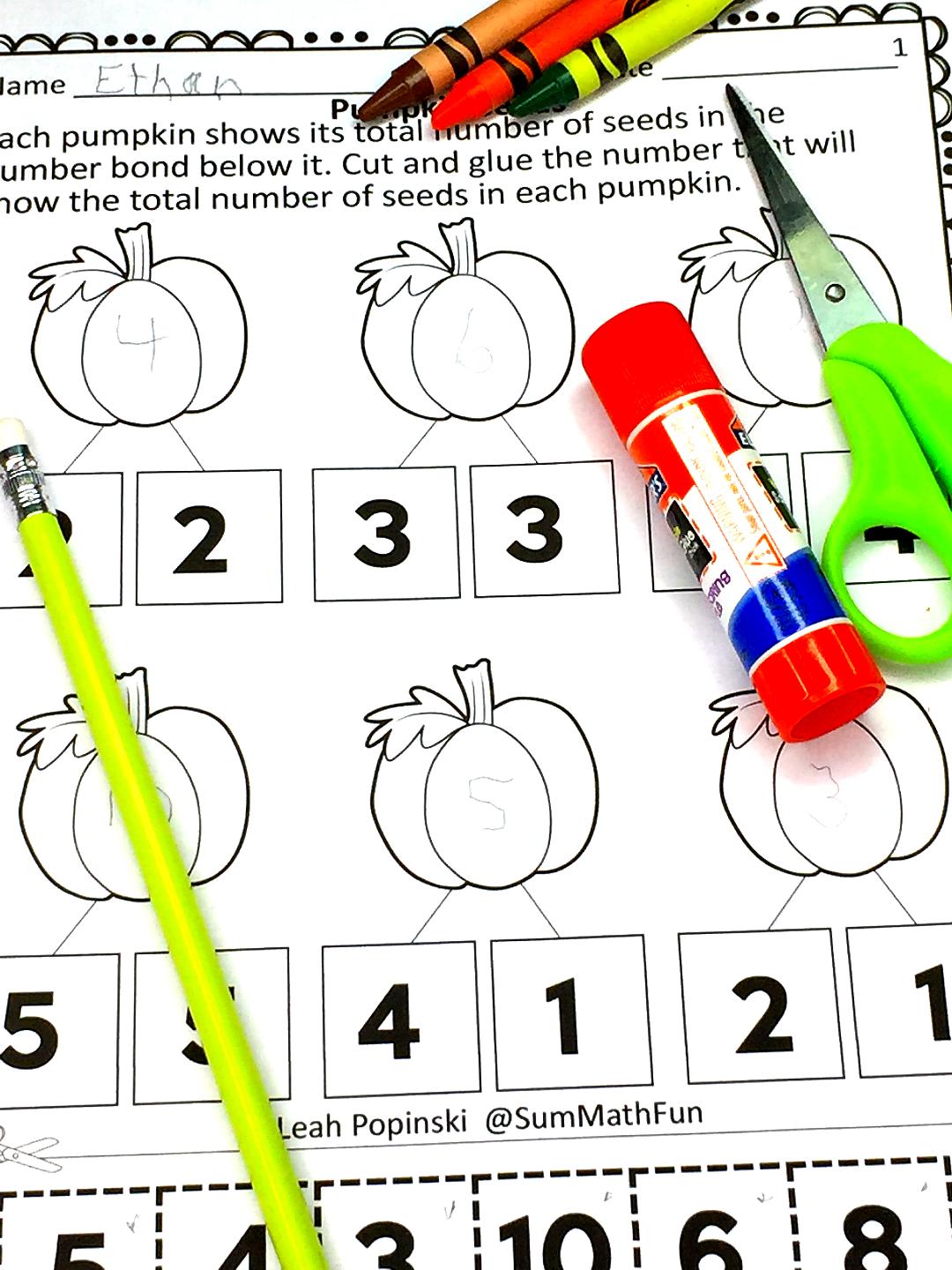 Page 2 works with general facts of 10. Because my students usually have difficulty remembering 6 and 4 equal 10 and 7 and 3 equal 10, I made sure to include those number bonds.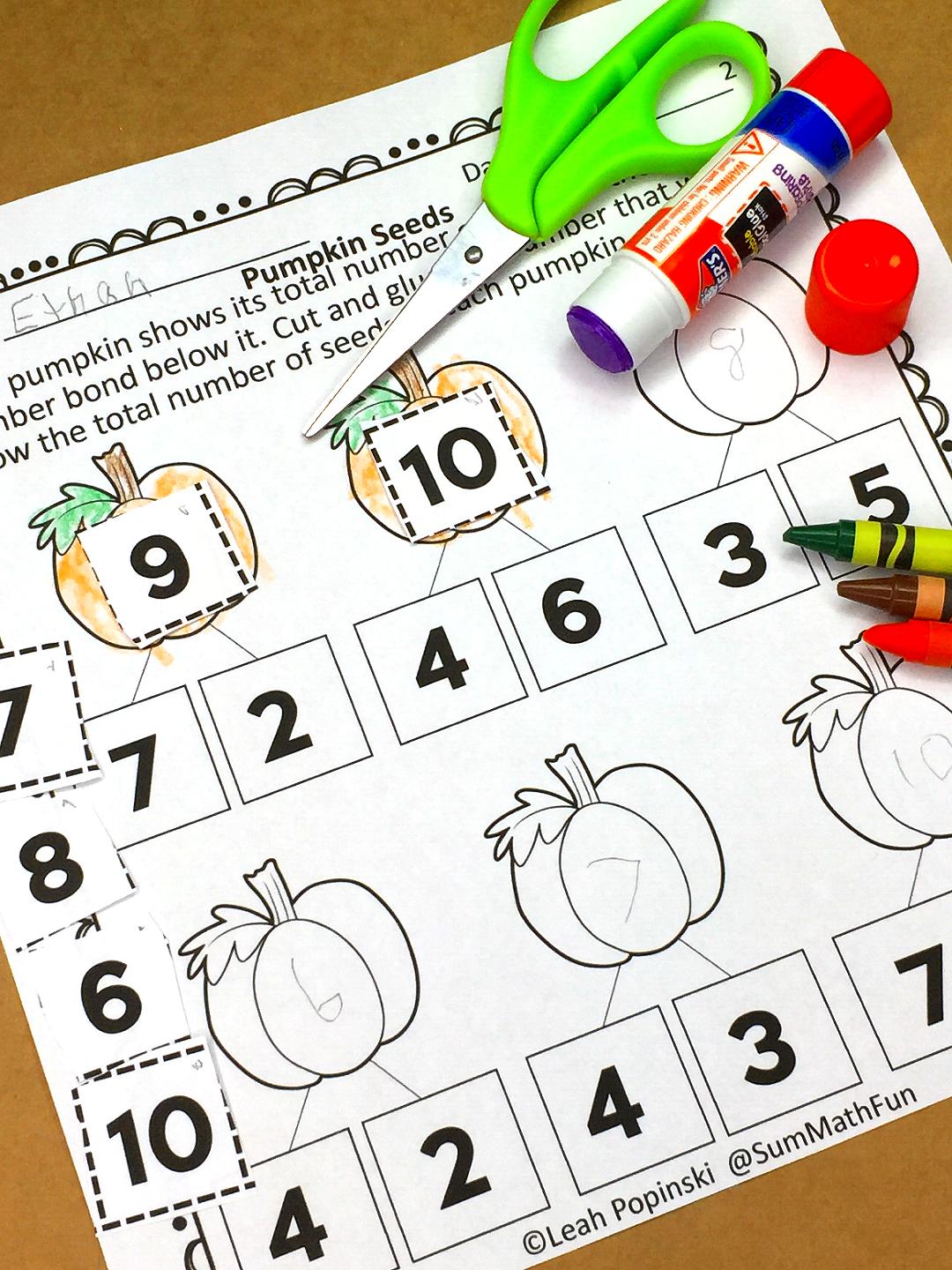 Pages three and four give the whole and one part. Students find the missing part.
Page three has number bonds to 6.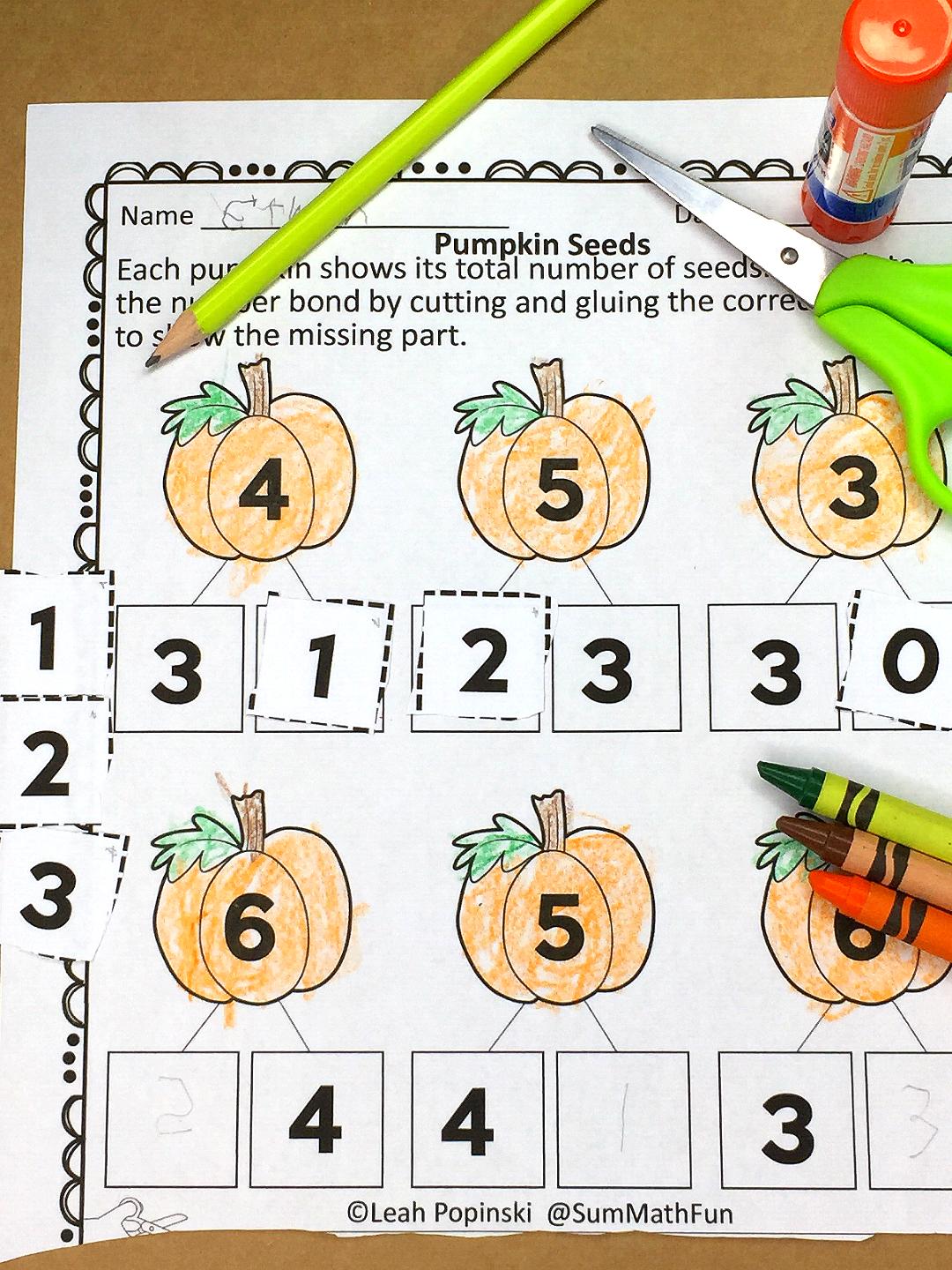 Page 4 works with number bonds from 7 to 10. Note that the pages are self-checking! If students can't find the answer, they need to think again.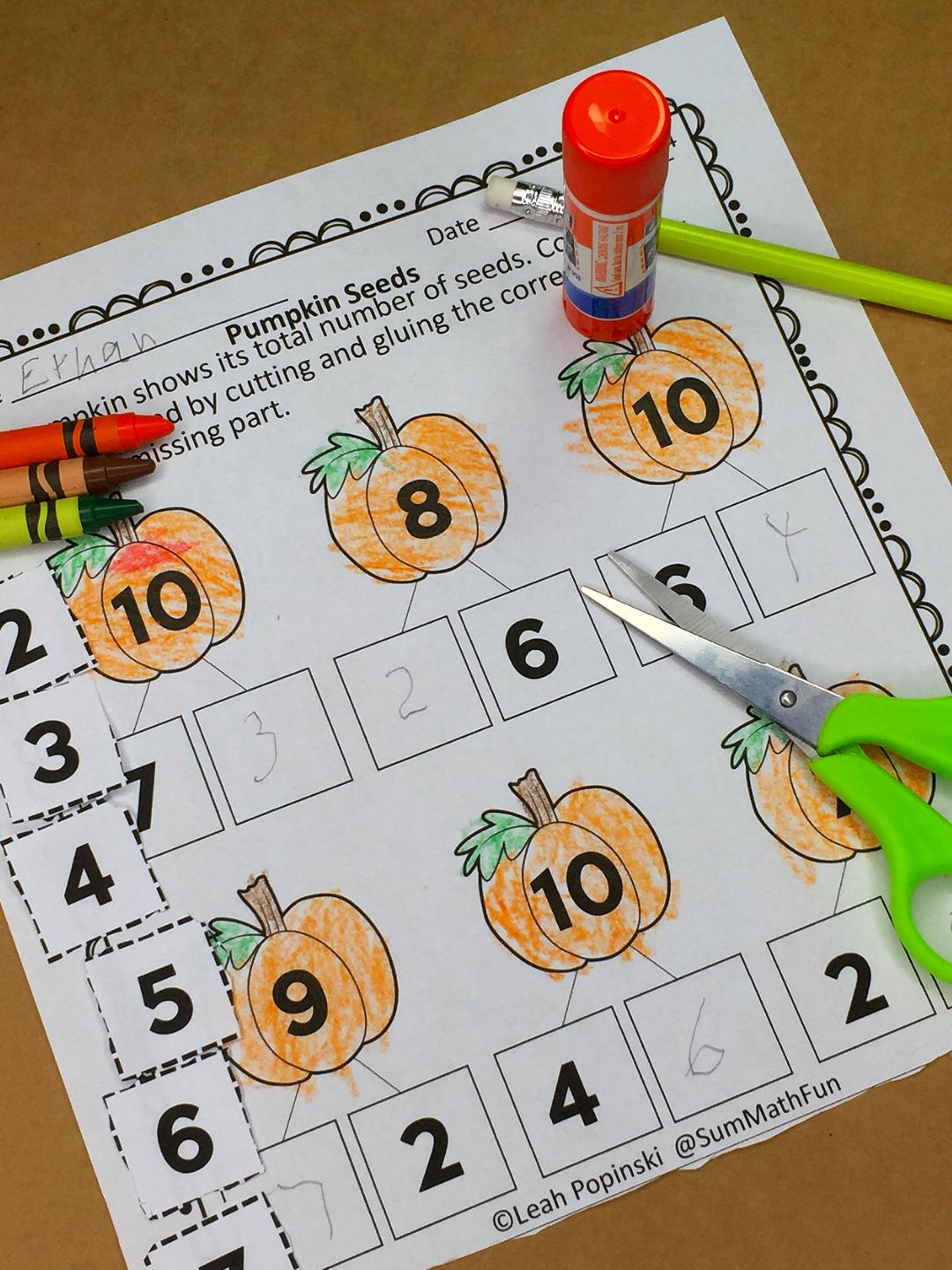 How to Complete the Free Fall Number Bond Worksheets
Students will need scissors, glue, and a pencil. Have number bond work mats (Mickey Mouse Ears) and manipulatives available.
Students complete each number bond at the top of their page. We called this their "pumpkin patch".

They find their solutions in the numbers at the bottom of the page and mark each one as they find it. I teach them to place a small dot in the upper right corner of each number before cutting them out. This is a "check" to make sure they have the correct solutions above, in their patch, and helps prevent errors – and tears. 🙂

Then, they cut out the numbers at the bottom of the page, match them, and glue them onto their pumpkin patch at the top.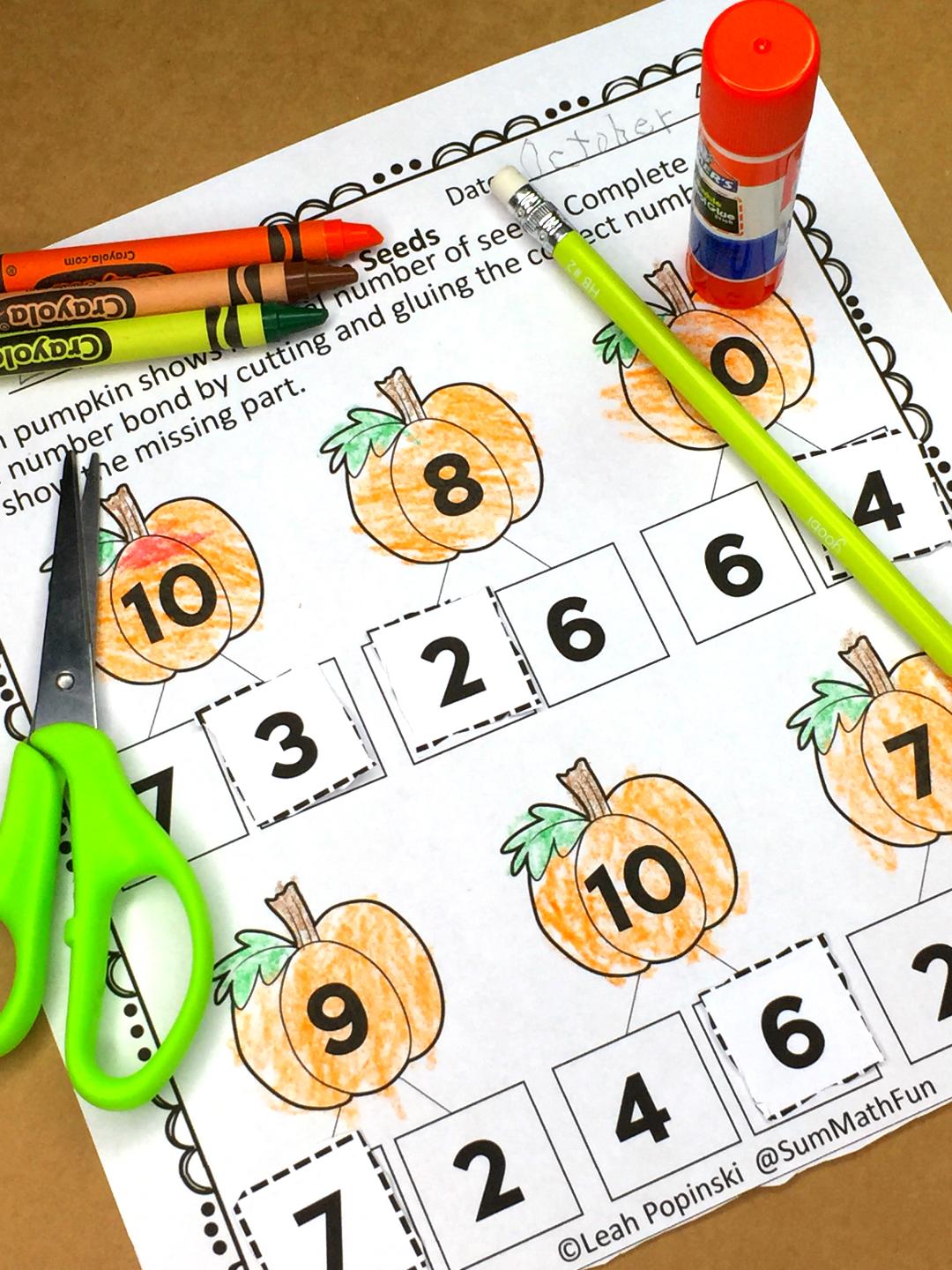 ⭐ Note that these worksheets are a great self-checking activity! If students have an answer incorrect, they will not find their solution in their pumpkin patch. If this happens, they simply go back to the problem and try again or look at their work to find their error!
When you subscribe, you will receive the password to our Free Resource Library of over 80 free resources! You will also find the Mickey Mouse Ears sorting mat in our library.❤️
.
You might also like this pack of number bond practice! The pack includes 5 different levels of fall number bond activities including number bond worksheets and number bond games. They are completely scaffolded for easy differentiation and student understanding. On TpT HERE or from My Online Shop Here!
.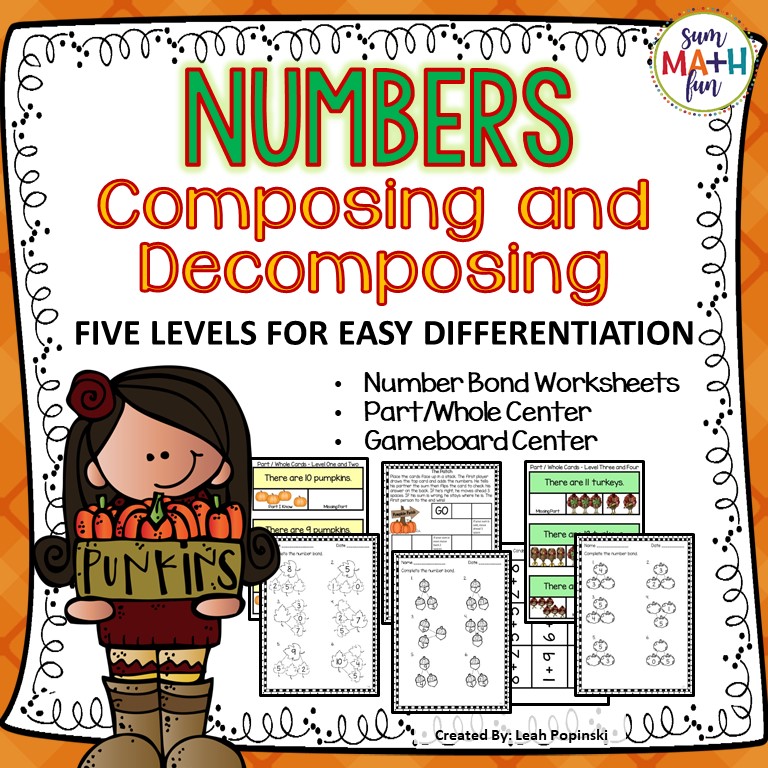 Thanks!
And as always,